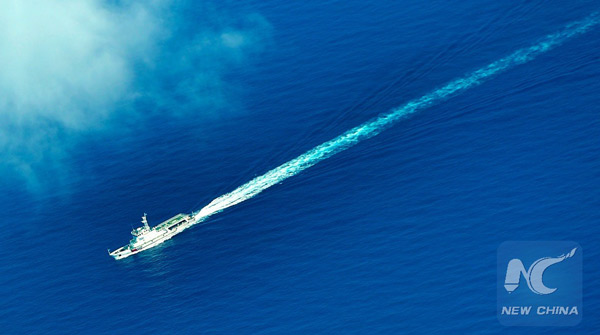 An aerial photo taken on Sept 25, 2015 from a seaplane of Hainan Maritime Safety Administration shows cruise vessel Haixun 1103 heading to the Yacheng 13-1 drilling rig during a patrol in South China Sea. [Photo/Xinhua]
BUENOS AIRES -- The Philippines' ongoing maritime dispute with China over the South China Sea must be resolved through reasoned bilateral dialogue, said a leading Argentine economist and academic.
Unilateral measures only serve to damage the relationship between the two countries, Gustavo Girado, head of the Buenos Aires-based Asia & Argentina Consultancy, told Xinhua in a recent interview.
In 2013, Manila decided to take its case to the Permanent Court of Arbitration (PCA) in The Hague, a move that "didn't seem to be the most appropriate, since the decade-old agreements between the two countries have established a proper means to resolve their disputes," said Girado.
The unilateral move ran counter to the commitments the Philippines made as a signatory of the 2002 Declaration on the Conduct of Parties in the South China Sea (DOC), said the academic.
"The road the Philippines chose draws attention somewhat due to a number of factors which failed to justify that action, historic and political factors," said Girado.
"It's very clear that Chinese inhabitants were the first to name the region," he added.
On Wednesday, China again urged the Philippines to suspend its legal proceedings at the PCA and return to the negotiating table.
Chinese Foreign Ministry spokesperson Hong Lei made the remarks at a press conference, saying the door to bilateral talks will always be open.
"China will continue to be committed to a negotiated solution to the South China Sea dispute with the Philippines, based on historic facts and in accord with international law," he said.