OTTAWA - Canadian Prime Minister Justin Trudeau Thursday apologized for the third time in two days for a physical encounter with two opposition members of parliament (MP) that resulted in a spat in the House of Commons last night.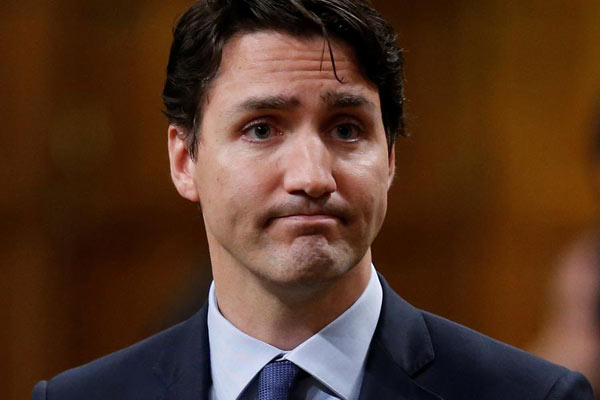 Canada's Prime Minister Justin Trudeau pauses while responding to questions after delivering an apology in the House of Commons on Parliament Hill in Ottawa, Ontario, Canada, May 19, 2016 following a physical altercation the previous day.  [Photo/Agencies]
"I apologize to my colleagues, to the House as a whole and to you, Mr. Speaker, for failing to live up to a higher standard of behaviour. Members, rightfully, expect better behaviour from anyone in this House. I expect better behaviour of myself," the prime minister said in the House of Commons Thursday after he apologized directly to two opposition MPs.
Trudeau said "how contrite and how regretful" he is over his behaviour and said he wants to make amends.
Trudeau's apology came as members of Parliament continue to debate a motion by Conservative MP Peter Van Loan on whether "the physical molestation" of the female MP in the House of Commons should be referred to the committee on procedure and house affairs. Trudeau said he agreed the matter should be studied at the committee.
The spat happened at the House of Commons just before a contentious vote to limit debate on Bill C-14, the Liberal government's assistance in dying bill.
The Trudeau government is trying to meet a Supreme Court-imposed June 6 deadline on the bill. However, the Canadian Parliament isn't sitting next week, giving the House and Senate only one more week of sittings to put the legislation in place.
Opposition MPs said Trudeau could make amends by withdrawing his government's motion M-6, which would give them enormous power to control the House agenda and limit the opposition's ability to slow down debate. The motion, if passed, will let a Liberal cabinet minister or parliamentary secretary adjourn the House for the summer with no debate and no advance notice.
Interim Conservative leader Rona Ambrose acknowledged Trudeau's apology, but urged him to withdraw the motion which she called "extreme and aggressive."
"I appreciate the prime minister's apology, but he's saying he wants to move forward. And he wants to do that responsibly and together. I don't know how we can do that unless he removes this motion that he has on the order paper," Ambrose said in the House of Commons Thursday.
However, Trudeau rejected the Opposition's attempt to tie incident to the government's decision to limit debate on Bill C-14.
"I refuse to allow anyone to think there was any justification for my behaviour yesterday evening. It was on me, it was my mistake, it was unbecoming of anyone in this House. I know my colleagues expect better of me," Trudeau said. "I ask for Canadians' understanding and forgiveness."
The debate is expected to push aside discussion on C-14. It is also expected to put opposition MPs in charge of how long the privilege debate continues. They can simply keep talking to extend the debate, which is likely appealing following tension between the parties earlier this week.