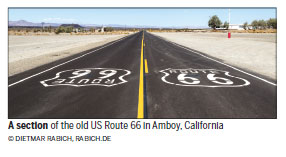 They call a scenic highway in rural Hebei province "China's Route 66". But one thing its legendary US namesake never had was tolls.
Officials operating the Zhangbei Highway initiated a 50-yuan ($7.70) toll on April 30 to pay for upkeep of the road, Hou Weijun, deputy head of the local tourism bureau, told the Beijing News.
The 130-kilometer road is called Caoyuan Tianlu, or Grassland Sky Road, between Yehu Ling and Chongli county. The highway is known for its scenery and landscape.

In China, more than 4 million tourists traveled the byway from January to September 2015, the Zhangjiakou Daily reported.
In an online poll of more than 11,000 users on ifeng.com, 78 percent of respondents said the fee was unreasonable. Some 58 percent said the charge was "disgusting" and that it discouraged tourism.
At 80 miles, China's Route 66 is a blip compared to its US counterpart, which in its glory days stretched from Chicago to Santa Monica, California -3,940 km, or 2,448 miles.
Swa Frantzen and his wife, Nadine Pelicae, aficionados of the old "Main Street of America" started their historic66.com website back in 1994.
"I didn't know there was a China's Route 66," Frantzen told China Daily. "You're the first to mention it to me."
Frantzen said there are "no tolls on any part of old US Highway 66. Oklahoma has I-44 that's partially a toll road, but it never was Route 66, although it replaces it today for daily use.
"Route 66 did run through the area that now is part of The Petrified Forest and Painted Desert National Park (in Arizona). The NPS (National Park Service) does charge an entry fee.
"In 1961, Route 66 was realigned to where the interstate is now (and the Park Service does not charge for driving through on the interstate)," he said.
Established in November 1926, Route 66 ran from Chicago west through Missouri, Kansas, Oklahoma, Texas, New Mexico, and Arizona before ending in Santa Monica, California.
In his 1940 novel The Grapes of Wrath, John Steinbeck detailed the migration by thousands of farmers along Route 66 as they left the Dust Bowl of Kansas and Oklahoma during the Great Depression, trying to reach better land in California.
Bobby Troup's 1946 tribute song (Get Your Kicks on) Route 66 (later recorded that year by Nat King Cole) still resonates. Jack Kerouac mentioned the lonesome road in his classic 1957 novel On the Road, and there was a Route 66 TV series starring Martin Milner from 1960 to 1964. Route 66 also was the inspiration for the popular 2006 Disney/Pixar movie Cars.
Route 66 was removed from the US highway system in June 1985, after it had been replaced by parts of the interstate highway system.
Parts of the road that passed through Illinois, Missouri, New Mexico and Arizona were designated a National Scenic Byway and bear the name Historic Route 66, which is making it back to some maps, according to wikitravel.com.
Several states have adopted bypassed sections of the former US 66 into state road networks.
In May 2015, a Chinese student studying marketing at Pace University in New York decided to walk the old US Route 66.
Boyi Ouyang told patch.com that he looked at the highway as a way to see the "real America".
"Route 66 is America's mother road," he said. "It's full of history."
He began his trip in Santa Monica, and it took him about 75 days to reach Chicago. He met some generous people along the way. One paid for his hotel room and gave him $200.
"That made me feel just so very touched because at that time I thought I couldn't continue on my hiking," he said.
Another gave him $20 and told him to "pay it forward".
"When you see somebody having any troubles, give them a hand. Not only just money," he told patch.com. "You can say hello, you can ask them how're they doing. I can't find the words to express my gratitude," he said.
There's something about an open road and a scenic highway that lifts the spirits of life's travelers.
Contact the writer at williamhennelly@chinadailyusa.com