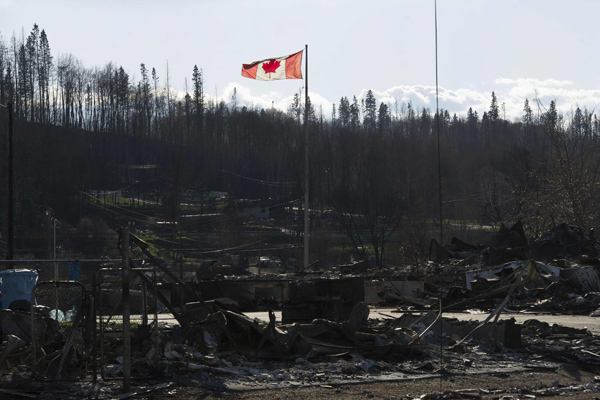 A Canadian flag flies over damage caused by a wildfire, which prompted the mass evacuation of over 88,000 people, in Fort McMurray, Alberta, Canada on May 14, 2016. [Photo/Agencies]
CALGARY - Evacuees who fled a wildfire in northern Alberta two weeks ago may be allowed to return home as soon as June 1, officials said on Wednesday, as the massive blaze kept oil production shuttered north of Fort McMurray.
Poor air quality in the Alberta city still poses a serious threat, officials said, delaying the return of the more than 90,000 people who were evacuated from the region on May 3 and 4, as the uncontrolled wildfire breached the city limits.
Alberta premier Rachel Notley said that re-entry would begin on June 1, if all safety conditions were met, with the return to be staged over two weeks. She warned that people with health issues, including pregnant women, should not return.
"The air quality issues we've had have set the recovery work back a bit, but progress is being made," Notley told reporters, adding the city will initially only have basic services and a boil water advisory will remain in place until the end of June.
Schools will remain closed until September, with all students moving up a grade despite not finishing their current school year, while the local hospital is not expected to be fully operational until mid-June.
The fire was largely under control in the city by last Wednesday, but authorities warned residents that it would not be safe to return until electricity and other key services were restored. And a shift in direction this week has moved the fire back toward the city.
The air quality health index, usually measured on a scale of 1-10, hit 51 on Wednesday morning, before improving to 11.
Notley warned that if the province's five safety conditions were not met, or if the fire shifted back toward communities, the re-entry would be delayed past June 1.
The fire was still burning around Fort McMurray on Wednesday, with dry, windy weather expected to push it east, in the direction of Suncor and Syncrude facilities, prolonging a shutdown that has cut Canadian oil output by a million barrels a day.
Alberta wildfire manager Chad Morrison said firefighters have so far been successful at holding the 422,000 hectares (1.04 million acres) fire back from those facilities.
"We still have to get through today, we still have some burning conditions to get through, but I'm optimistic as the day turns and we get some cooler weather the next two days, we'll continue to hold it," he said.
On Tuesday, the fire destroyed a 665-room lodge for oil sands workers, then blazed eastward toward other camps. Officials said they were not aware of any further damage to industry camps.
"I want to go home - me and everybody else," said Barritt Wilson, 31, a heavy equipment technician for Suncor forced to leave camp on Monday. "It was good to get back to work, so it was frustrating that we had to leave. We are praying for rain."
INDUSTRY ON GUARD
About 8,000 workers were evacuated from camps and facilities north of Fort McMurray on Tuesday, with both Suncor and Syncrude removing all but essential staff from their major operations.
Reached early on Wednesday, Syncrude spokesman Will Gibson said the company's facilities were intact. Syncrude is majority owned by Suncor.
"The fire sits south of our lease with a series of current and former tailings facilities that form a natural fire break," Gibson said in an email.
None of the oil sands have caught fire, and the industry has redoubled efforts to ensure facilities are well protected.
In one encouraging sign for producers, cogeneration electricity plants around Fort McMurray increased output overnight with the restart of one unit.