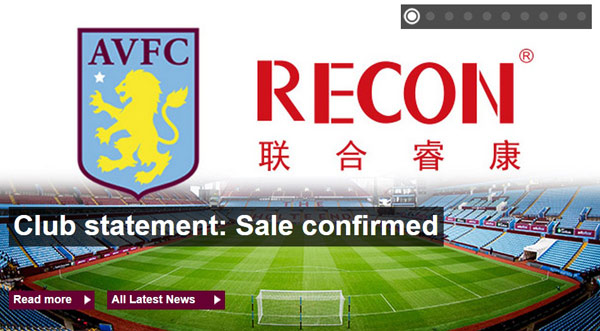 The club's website confirms the sale.
Chinese businessman Tony Jiantong Xia bought English soccer team Aston Villa for a reported 60 to 70 million pounds today, only days after the midlands-based club learned it was being relegated from the top-flight Premiership after a dismal season.
Although Sky News reported Xia, head of the Recon Group, had paid as much as 70 million pounds, the club wouldn't confirm the amount paid.
A club announcement said the sale, by American businessman Randy Lerner, was subject to clearance by the Premier League and the English Football Association.
Aston Villa was relegated to the next division down, known as the championship, after winning only three games this past season. Sky said former Chelsea player and manager Roberto di Mateo was being tipped as the next Villa manager.
Xia's immediate aim was to get the club, of which he has been a lifelong supporter, back into the Premiership. He plans to make Aston Villa the most famous football Club in China with a huge fan base.
Recon Group is a privately owned holding company that controls five publicly listed companies in Hong Kong and Chinese mainland, which employs 35,000 people in 75 different countries and regions, according to the Aston Villa club's website.
Xia is described as a passionate football fan who played as a striker while he was at university, and has acquired Villa through his Sports, Leisure and Tourism Division.
Xia's move is the latest in a series of Chinese moves to invest in European soccer clubs.
Last year a group of Chinese investors paid $400 million for a 13 percent stake in leading English Premiership club Manchester City, in the wake of a visit there by President Xi Jinping.
In January last year Wang Jianling, the billionaire owner of Dalian Wanda Group, paid $52 million for a 20 percent stake in Spanish La Liga club Atletico Madrid, and in northern Italy AC Milan, one of the country's leading Serie A clubs, said it was in exclusive talks with group of Chinese investors to sell the club to them.
AC Milan is owned by former Italian premier Silvio Berlusconi's Fininvest Group, with Italian media saying he was seeking as much as 700 million euros.
China has set improving the domestic soccer game as a major goal, and last October Britain announced plans to invest money and expertise in Chinese domestic soccer programs.
Last year CCTV started showing English Premiership games after a gap of several years.
Contact the reporter: chris@mail.chinadailyuk.com