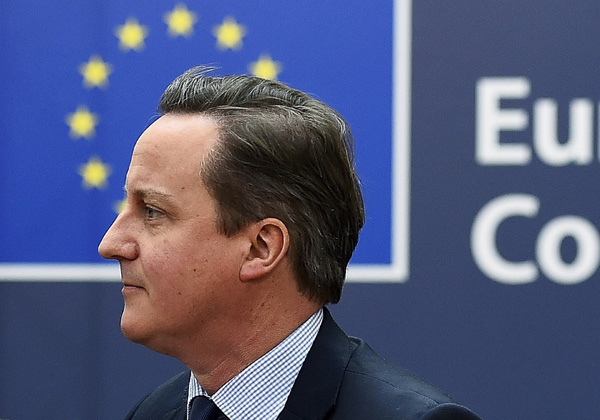 British Prime Minister David Cameron arrives for a European Union leaders summit addressing the talks about the so-called Brexit and the migrants crisis in Brussels, Belgium, February 18, 2016. [Photo/Agencies]
In the meantime, EU leaders showed strong hope to secure reform deal before expected referendum in Britain to keep the UK in the EU.

"As European Parliament we have a great interest in ensuring the UK remains a member of the EU. Together we are stronger and we will work constructively to ensure that what is agreed is actually put into legislative form in the EU," said Martin Schulz, President of the European Parliament in a joint press conference with President of the European Commission Jean-Claude Juncker just ahead of the summit.

"I am confident we will have a deal during this European Council. We have to sort out a certain number of questions and I am convinced Britain will be a constructive member of the EU," said Juncker at the press conference.

However, just as what President of the European Council Donald Tusk pointed out concerning the summit, "we are in the middle of still very difficult and sensitive negotiations on the UK question. One thing is clear for me though. This is a make or break summit. I have no doubts."