BRUSSELS - British Prime Minister David Cameron on Thursday said the work at the ongoing European Union (EU) summit would be "hard" as European leaders tried to hammer out a deal to avoid Britain leaving the 28-country bloc.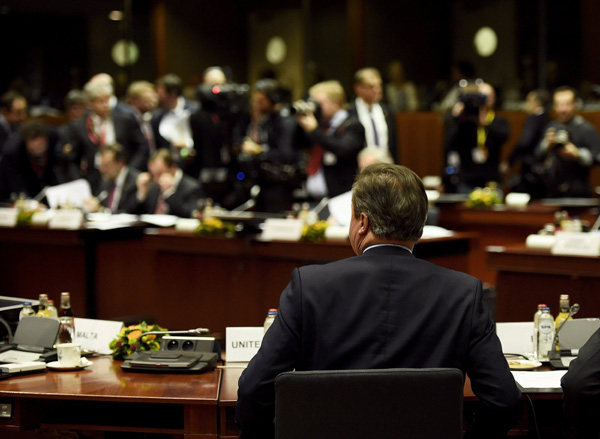 British Prime Minister David Cameron sits during a European Union leaders summit, addressing the talks about the so-called Brexit and the migrants crisis, in Brussels, Belgium, February 18, 2016. [Photo/Agencies]
"We've got some important work to do today and tomorrow, and it's going to be hard," Cameron told reporters upon his arrival in Brussels for a two-day summit.
London demands reforms to the EU and the summit was viewed as a "make or break" time for a deal to win Cameron's support for Britain staying in the bloc before a scheduled referendum.
"I will be battling for Britain, if we can get a good deal, I will take that deal, but I will not take a deal that doesn't meet what we need," he said.
"I think it is much more important to get things right than in a rush. But with good will, with hard work, we can get a better deal for Britain," he added.
German Chancellor Angela Merkel told reporters upon her arrival that the UK's expectations in view of its referendum would be an intensive discussion. "We have a lot to clarify. We want to do everything so that the UK can remain a member of the EU."
French President Francois Hollande said an agreement was "possible" if certain conditions were met. However, he said "no country should ignore the common rules we have established. The UK shall stay in the EU but in respect of the fundamental rules and spirit of the EU."