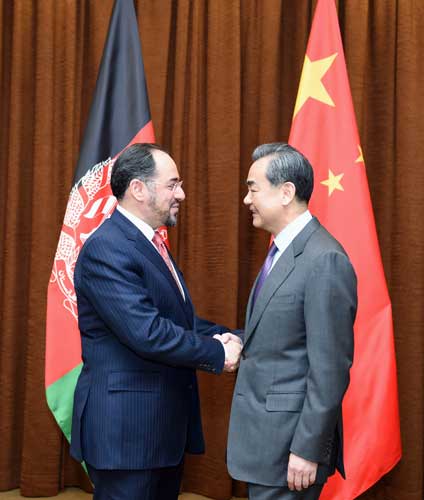 Chinese Foreign Minister Wang Yi, right, meets with Afghan Foreign Minister Salahuddin Rabbani in Beijing on Jan 26, 2016. [Photo/Xinhua]
A timetable for peace talks between the Afghan government and the Taliban could emerge from a roadmap to be finalized at a meeting next month, Afghan Foreign Minister Salahuddin Rabbani told China Daily in an exclusive interview in Beijing on Wednesday.
The third round of the Quadrilateral Coordination Group meetings, involving Afghanistan, Pakistan, China and the United States, will be held in Islamabad on Feb 6. The meeting will finalize a peace and reconciliation roadmap, Rabbani said.
The Afghan government feels "a sense of urgency" for negotiations with the Taliban and has been calling for the militants to join peace talks and "become a responsible political movement", Rabbani said.
Peace talks have been stalled since Taliban founder Mullah Omar was confirmed dead in July, an event that brought into sharp focus the divisions within the organization.
The Taliban's response to the Afghan government's calls for talks has been varied, Rabbani said.
"Some of them are positive. Some are still considering. Some of them have their own preconditions," he said. "But what I see is that the Afghan government has always said that no precondition at this time is acceptable, because we cannot start talks by preconditions."
Restarting the talks is also important for containing terrorism in the country, the foreign minister added, saying there are "other threats that are emerging".
"As soon as we talk with the Taliban, we will be able to focus our energies and capacities on tackling these newly emerging threats, such as Daesh (the Islamic State group). ... If we see peace and stability return, these newly emerging threats can be fought against and prevented from becoming really big and major threats to Afghanistan and to the region," he said.
Daesh has increased its presence in the country in recent years. It is reported to have clashed with both the Taliban and the Afghan police in Nangarhar province in September.
China has worked to facilitate the resumption of the talks, and Rabbani said his government welcomes China's role in pushing the peace process.
"China's policy has been to support an Afghan-led and Afghan-owned peace and reconciliation process. We very much want that, and we very much welcome any support that will bring peace and stability to Afghanistan as soon as possible," he said.
China is also involved in assisting Afghanistan in improving its infrastructure and economy, Foreign Minister Wang Yi said in a news conference on Tuesday.
Wang Xu contributed to this story.