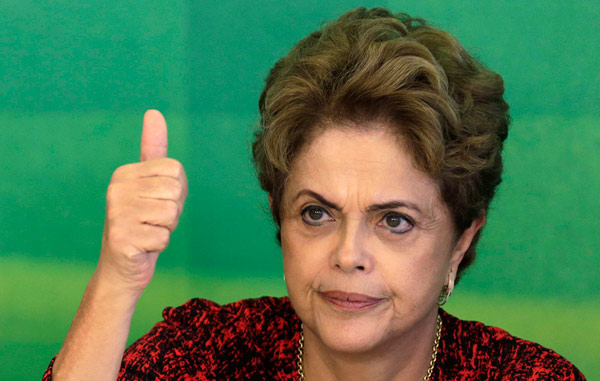 Brazil's President Dilma Rousseff gestures during a meeting with social movements at Planalto Palace in Brasilia, Brazil, Dec 17, 2015. [Photo/Agencies]
BRASILIA - Brazilian President Dilma Rousseff said on Thursday that she is confident that the Chinese government has all the tools necessary to make a "smooth transition" for the Chinese economy.
"Brazil has full confidence that the Chinese government has all the tools to provide a smooth transition," Rousseff told her first press conference in the new year.
She said the Chinese economy is adjusting to changes in the world economy that have taken place since the 2008 financial crisis.
"China is also adjusting. Its adjustment is different from ours, as we focus on investments but China is more focused on consumption," Rousseff added.
The president also stressed that China will play a "stabilizing role" in the fluctuations of different economies it interacts with.
The tremors felt in Chinese stock markets over the past week have caused worries over the future of the Chinese economy, as it is shifting toward a development model powered by innovation and domestic consumption.