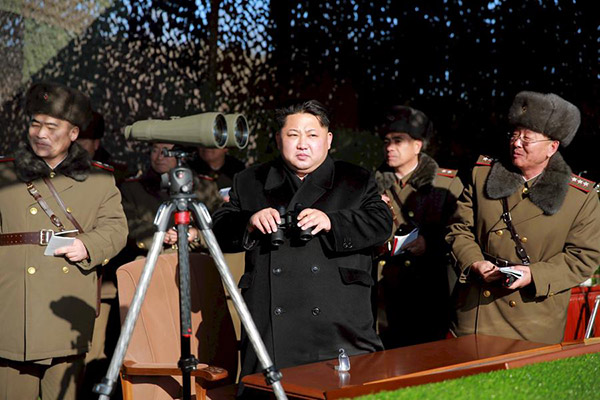 DRPK leader Kim Jong-un (C) watches a firing contest of the KPA artillery units at undisclosed location in this photo released by DPRK's Korean Central News Agency (KCNA) in Pyongyang, Jan 5, 2016. [Photo/Agencies]
PYONGYANG - The Democratic People's Republic of Korea announced Wednesday that it has successfully carried out its first hydrogen bomb test.
The "total success" of the test, which took place at 10:00 am Pyongyang time (0130 GMT), meant that the DPRK has "proudly joined the advanced ranks of nuclear weapons states possessed of even H-bomb," Pyongyang said in a statement carried by the state-run KCNA.
According to the statement, DPRK top leader Kim Jong Un ordered the H-bomb test on Dec 15, 2015, and signed the final written order on Sunday.
The test has "proved the technological specifications of the newly developed H-bomb were accurate and scientifically verified the power of smaller H-bomb," said the statement.
The DPRK claimed that the test was conducted "in a safe and perfect manner" and that no adverse impact was caused on the environment.
It added that its development of nuclear weapons is aimed at smashing the US hostile policy against it, and stressed that the DPRK would not resort to nuclear weapons unless its sovereignty was infringed on.
Earlier in the day, the China Earthquake Network Center said a 4.9-magnitude earthquake jolted the DPRK at 0130 GMT at a depth of 0 km.
The US Geological Survey, which also reported the temblor but initially put the magnitude at 5.1 and the depth at 10 km, later revised the depth to 0 km.
The DPRK had conducted three nuclear tests in 2006, 2009 and 2013.