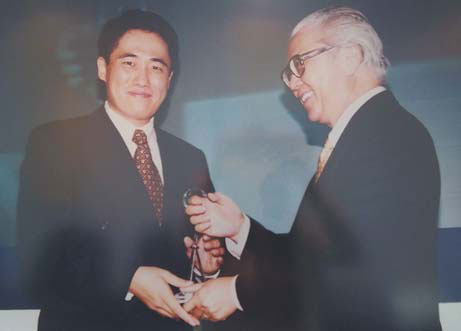 Shi Xu (left), CEO of Nanofilm Technologies International, is presented the Singaporean National Technology Award 2000 by former Deputy Prime Minister Tony Tan Keng Yam, who became president of Singapore in 2011. Provided to China Daily
With leading-edge and environmentally friendly coating technologies, Nanofilm Technologies International Pte Ltd has gain a strong foothold in China.
Founded in 1999, the high-tech spin-off from Singapore's Nanyang Technological University provides vacuum coating systems, which are used in a wide range of sectors including solar panels, auto parts and branded electronics, such as smartphones, computers, watches and cameras.
The technologies have also contributed to technological innovations in traditional industries such as textiles, expanding the life span of machine components and increasing their work efficiency, according to the company.
"Our core competence lies with our ground-breaking technology and continuous innovations, which resulted in the achievement of many advantages over conventional coating techniques," said Shi Xu, CEO and founder of the Singapore-headquartered company.
The PhD holder was an associate professor at Nanyang Technological University and has served on the International Advisory Board of the Nano Materials Center at the University of Queensland in Australia.
He founded Nanofilm based on his award-winning and patented filtered cathodic vacuum arc technology and utilized the FCVA technology in the hard disk drive industry to provide an ultra-thin protective layer of amorphous diamond overcoat TAC-ON, setting new records and benchmarks for the worldwide coating industry. With the world's first FCVA inline coating system, Nanofilm has already obtained 70 percent of the market share in the sector.
These advantages of the FCVA technologies include "dense coating structure with high hardness, excellent adhesion and low coating temperature", Shi said.
With more than 30 international patents, the high-tech company is well positioned in the vacuum coating system segment.
Targeted at the growing China market and riding high on the country's efforts in industrial upgrading and environmental protection, Nanofilm has set up two subsidiaries in Shanghai.
Nanofilm Vacuum Coating (Shanghai), founded in 2002, focuses on vacuum coating services using FCVA technology and related services, and Nanofilm Renewable Energy Technology (Shanghai), established in 2011, supplies coating systems for photovoltaic modules with high performance yet at low cost.
The two subsidiaries are both expanding to meet market demand.
NVC, with more than 1,000 staff, was granted the status of a high-tech company by the local government in 2011.
"Along with our business expansion, we will speed up the setup of research and development in China," Shi said. "We strive to forge synergism and promote more interactions between our operations in Singapore and China and excel in their respective areas.
"By leveraging our international platform in Singapore, Nanofilm will bring more technologies, equipment and talented people into China and help it develop core competency in vacuum coating technology."
zhuanti@chinadaily.com.cn