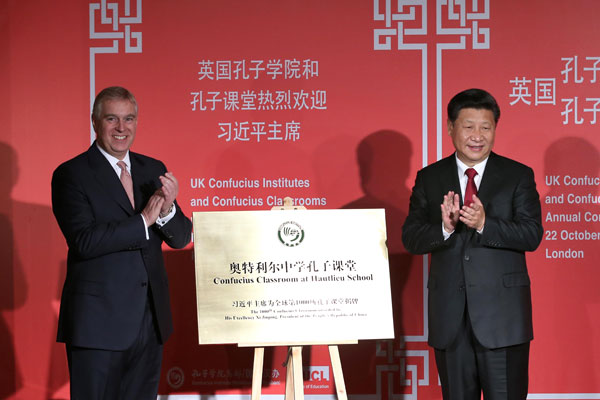 China's President Xi Jinping (R) applauds with Britain's Prince Andrew after unveiling a plaque during a Confucius event at the Mandarin Oriental hotel in London, Britain Oct 22, 2015.[Photo/Xinhua]
President Xi Jinping's visit to the United Kingdom during which he was given the royal welcome comes to an end. However, the reverberations from the visit are here to stay as the trip marks a sea change in international political and economic relations.
While the United States government and media have downplayed the story, you could imagine them, like the Queen, use the royal "we" to frustratingly state that "we are not amused". Britain's break from its longstanding "special relationship" with the US must have American leaders wondering what to do to contain the damage, and maintain America's preeminence as the world leader.
It is breathtaking to see in three short years that Sino-UK relations have gone from Britain being an offensive critic after warmly receiving Dalai Lama in 2012 to that former colonial power on whose empire the sun never set to being China's tamed partner.
Led by Chancellor of the Exchequer George Osborne, the UK had already apparently decided by this March when they defied the US to become the first European country to join the Asian Infrastructure Investment Bank, to get in on what they see as the Chinese gravy train, even at the expense of diminishing the country's longstanding special relationship with the US. This should not come as a surprise to those who know that Osborne backpacked in China as a student, has a wife who speaks Chinese and a child who is learning to do so. He's clearly the point man, not Prime Minister David Cameron or Foreign Secretary Philip Hammond. In a back-to-the-future way, Britain is again tossing in its lot with China, similar to 1950 when it was the first Western nation to offer recognition to New China.
And this is just the first domino. German Chancellor Angela Merkel and French President Francois Hollande will soon be knocking on President Xi's door. Next month representatives of 16 eastern and central European countries will meet in Beijing in a China-sponsored summit. Among the topics on the table: China's bold "One Belt One Road initiative". Many of these countries, among others, want to share in the financial and economic bounty of this smart initiative.
What can the US do? Figure out some way to better come to terms with current and future realities. I find it comforting, however that the US did not spoil this visit by their promised action to counter China in the South China Sea islands. This small signal is a ray of hope that the world's leading power and its most ascendant one, can still find a modus vivendi. After all, the future of the world depends on them being able to do so.
The author is a senior adviser to Tsinghua University and former director and vice-president of ABC Television in New York.