Some carriers encourage passengers to arrive earlier than usual because of longer checks
Airports around the country have stepped up security checks on passengers and their luggage to get ready for the upcoming events to mark the 70th anniversary of victory in the War of Resistance against Japanese Aggression (1937-45).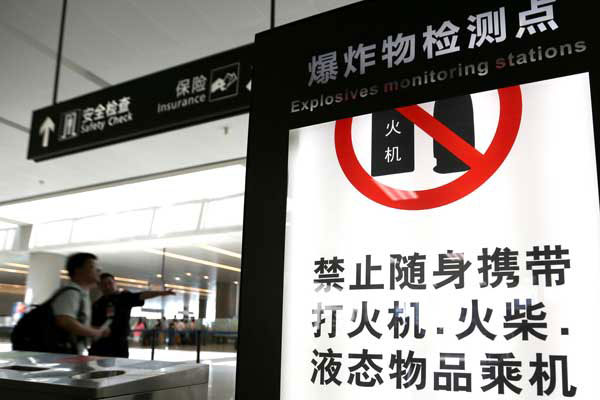 A security staff member at the Shanghai Hongqiao International Airport guides a passenger to the security check on Monday. [Photo/Xinhua]
Some airlines have made announcements to suggest passengers arrive at airports at least two hours ahead of their departure time for a domestic flight and three hours for an international flight.
Security checks have been tightened at airports in major cities such as Beijing and Shanghai, where all the carry-on baggage must be opened and all passengers must take off their shoes and belts when going through the security check.
Air China announced that as of Thursday, check-in for domestic flights departing from Beijing Capital International Airport would close 45 minutes before the departure time to ensure that passengers will have enough time for the security check.
Li Qiuyuan, a public relations manager from Shanghai, who flew from Beijing to Shanghai on Wednesday evening, said the security check at Beijing Capital International Airport was almost the strictest she had ever experienced in the country.
"The lines waiting for the security check were pretty long as every passenger had to take out almost everything in their bags. But the speed is tolerable as all the lines for the security check were open," she said.
In some provincial capitals, such as Wuhan in Hubei province, at least half of the carry-on bags were opened for checks, and one in three passengers were required to take off their shoes and belts for security checks, Changjiang Daily reported.
Lighters and matches are completely banned from being taken onto aircraft and certain portable chargers are only allowed in carry-on baggage, according to a notice on the website of the Civil Aviation Administration of China.
Portable chargers, which are prone to a short-circuit or even an explosion while being transported in a sealed space at high temperature, pose a serious threat to flight safety.
"Portable batteries with a capacity above 160 watt-hours are prohibited on aircraft. Each passenger is allowed to carry no more than two portable batteries with a capacity between 100 to 160 watt-hours with the approval of the airlines," said the notice from the administration.
"In addition, the producer and the input and output voltage must be clearly labeled on portable batteries. Putting them in checked luggage and using them during the flight are strictly prohibited," it continued.
A security inspector from Shanghai Hongqiao International Airport said if a portable charger is detected in a passenger's luggage, officials will open the luggage directly to check it and withhold it for video surveillance.
"That may bring the risk that the luggage may not go on the same flight as the passenger," said the inspector, surnamed Zhao.
Those who deliberately hide prohibited items will be handed over to police, he added.
zhouwenting@chinadaily.com.cn