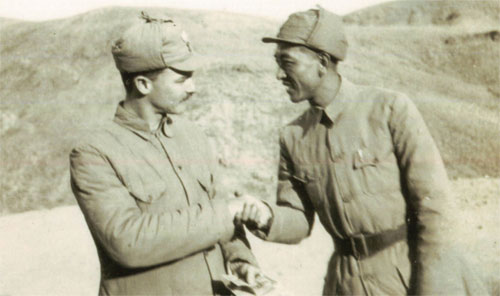 Deputy Chief of Staff Geng Biao in Jin-Cha-Ji Region met and shook hands with Superfortress polit Captain John Overton of the 42-6234th Bomb Squadron, 444th Bomb Group in November, 1944. Provided to China Daily
In 1999, Li Xiaowei learned about the US 20th Air Force's existence in Sichuan province, China, during World War II. Now, 16 years later, Li is scheduled to be at the 2015 BookEpo America in New York on Friday to sign copies of his book, Superfortress: Anti-Japanese History of US 20th Air Force with Chinese People.
To commemorate this year's 70th anniversary of the world's victory over fascism, the Sichuan People's Publishing House, which is under Xinhua Winshare Publishing and Media, asked Li to condense his 16-years' of research on the B-29 superfortress for the book and to collaborate with Gale E-Library of Cengage Learning to make the book more accessible to readers interested in military-related topics, especially aviation.
"The book is more like a printed documentary, rather than a literature work," said Li, because it is composed and edited according to time sequence, and its contents of historical materials and photos could be used as a history reference.
It was by chance that in 1999 that Li learned about the 20th Air Force from villagers in Sichuan province, who said American planes used to crash in their nearby mountain during World War II. At the time, Li worked at a local television station and originally planned to make a documentary of that history.
"During the past 16 years, I have been collecting a huge pile of first-hand historical materials from local libraries and archives in Sichuan province, family and relatives of the then American pilots flying the superfortress and American veterans associations," Li told China Daily at the Javits Convention Center in Manhattan, site of the three-day BookExpo.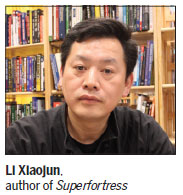 "Thanks to their kind help and contributions of aviation and military experts, I was able to learn of many touching stories from those who personally experienced or were told by their older generation, and present a book on the fighting days of the 20th Air Force in China during the World War II," he said.
"The book includes more than 100 pictures, memoirs of generals, soldiers, officials and civilians who went through the war in person and the military records, planning and local documents of those days."
Superfortress, the B-29 heavy bomber primarily used by the 20th Air Force toward the end of World War II, isn't as famous as the 1st American Volunteer Group (nicknamed the Flying Tigers) and the 14th Air Force, which the Chinese people may know more about through publications and film productions. However, the superfortress was of strategic significance during World War II, and its story needs to be told and known by more people, according to Li.
When Germany was about to be defeated in 1944, the main battlefield shifted to Asia. The US used B-29s to attack Japan from four forward bases in Sichuan in southwestern China. And it was B-29s which dropped atomic bombs on Hiroshima and Nagasaki. The B-29s also were the only aircraft that flew from China to carry out raids on Japan.
Apart from its strategic importance, the superfortress also was used in collaboration between the US and Chinese military for such activities as exchanging weather intelligence. American pilots and crew members who were injured when their planes crashed in China received help from local Chinese, according to Li.
xiaolixin@chinadaily.com.cn