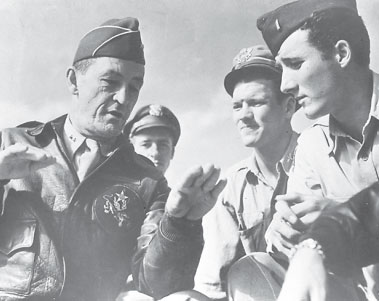 Lieutenant General Claire Chennault (left), commander of the US 14th Air Force, explains flying techniques to pilots at Kunming airport in Yunnan province in 1944. [Photo/Xinhua]
Reporter's log: Old links can help to forge modern friendships
I interviewed dozens of descendents and friends of Flying Tiger pilots, and members of the Flying Tigers' Historical Organization who visited the newly opened heritage park in Gui-lin. Many of them were retired US Air Force pilots.
Their emotional attachment to the relics left by the Flying Tigers and to the people of Guilin, who helped to rescue the US pilots or build the park, plus the hospitality they received in return left me with the deep impression that interpersonal contacts and friendships should form the foundations of Sino-US relations.
Because of the geological distance, language barrier and cultural differences, Chinese and US nationals view one another through the lens of the media, rather than face-to-face contact.
China's relationship with the United States has experienced many ups and downs since World War II. The media agenda on both sides has been greatly influenced by these changes, and the countries' views of each other have also been partially shaped by the media.
The two countries combined to fight the Japanese in the 1940s, fought each other in the Korean War (1950-53), regarded each another as ideological foes in the 1960s, and became friends in the 1970s and 1980s.
Since the end of the Cold War in the early 1990s, the Sino-US relationship has been shaped more by economic and trade ties than by politics.
In Guilin, most of the one-on-one chats between the US visitors and the local residents after the opening ceremony were conducted in English, Chinese, and body language, which required no interpretation.
Most of the people in attendance were aged from 60 to 80, and it seemed to me that they derived great enjoyment from their personal contacts, finding more common ground than differences. Some even hugged each other with tears running down their faces.
As a reporter for an English-language Chinese newspaper, I have often written articles about the lack of trust between the governments and militaries of China and the US.
The two countries should strengthen person-to-person exchanges and contracts. They should build mutual trust between the two peoples, which is often easier than imagined, and lay the foundations for trust in other fields to foster mutual understanding.
As the world's largest and second-largest economies, I think the US and China should become more like partners than imaginary enemies, not only for their own interests, but also to benefit the entire world.
No obstacles today are bigger than the fascists we fought together 70 years ago. If we could fight for peace and prosperity like brothers then, why can't we stand together now and make the world a better place for the whole of humanity?
Huo Yan, Li Ziyu and Nell Calloway contributed to this story.
Contact the writer at liyang@chinadaily.com.cn