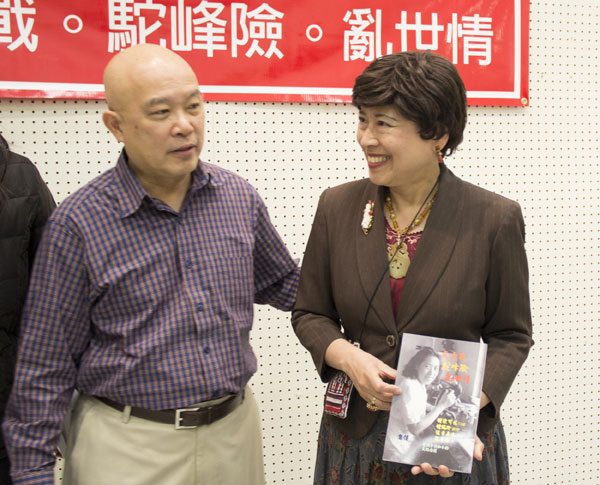 Deborah Chung (right), co-author of Piloted to Serve, speaks with Cecil Fong, president of OCA Houston Chapter. May Zhou / China Daily.
Lots of times, recognition is better late than never. Take the case of Rebecca Chan.
Back in the early days of World War II, Chan, a trained nurse in Hong Kong, escaped to Chongqing after the Japanese invaded in 1941.
When she heard about the Flying Tigers, she applied to work for them as a nurse and was lucky enough to become one the first four Chinese nurses taking care of their sick and wounded.
The Flying Tigers - formally known as the 1st American Volunteer Group (AVG) of the Chinese Air Force - was a group of volunteer American fighter pilots from the US Army, Navy and Marine Corps led by Capt Claire Lee Chennault fighting alongside the Chinese against the Japanese.
Chan, like so many other members of the Flying Tigers, is no longer with us. But her daughter,Deborah Chung, a professor at New York State University,has carried on her legacy. She shared her story with an audience in Houston on Jan 17.
Through slides of old documents and photos, Chung told about her mother's life, focusing on her service as a nurse with the Flying Tigers. The story has been documented in the book Piloted to Serve, which Chung co-authored with her mother.