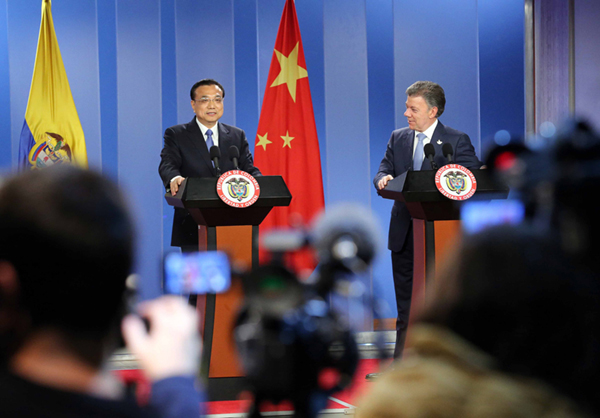 Premier Li Keqiang and Colombian President Juan Manuel Santos attend a press conference in Bogota, capital of Colombia, May 21, 2015. The Premier said that China fully supports Colombia's rebuilding process following the deadly landslide on May 18, and he also said that Chinese infrastructure construction enterprises are ready to set up factories in Colombia to achieve win-win cooperation. The Colombian president welcomed the Premier to his country, and said he hopes bilateral ties would be greatly boosted.[Photo/Xinhua]
BOGOTA - China and Colombia on Thursday agreed to seek cooperation in a host of areas including production capacity, equipment manufacturing and infrastructure construction to boost economic ties.
The agreement came as visiting Chinese Premier Li Keqiang met with Colombian President Juan Manuel Santos at the presidential palace for discussions on bilateral relations and international issues of common concern.
Describing his talks with President Santos as "frank and fruitful," Li told reporters after the meeting that China has rich experience and advantageous production capacity in infrastructure construction and equipment manufacturing.
"We stand ready to set up plants in Colombia to produce iron and steel, construction materials and engineering equipment according to the needs of the Colombian side," Li said, adding that bilateral cooperation therein is expected to lower the cost of production and provide jobs for local communities.
Li stressed that China's cooperation with Colombia in production capacity development is open to Western countries, which enjoy advanced technologies. The cooperation, combined with China's cost-effective equipment, will help boost industrialization and infrastructure construction in the South American country, he said.
It will not only secure a win-win situation for China and Colombia, but will also promote cooperation between developing and developed countries to achieve an all-win scenario that is conducive to global economic recovery, Li said.
Santos said while meeting the press that Colombia views China as an important strategic cooperation partner.