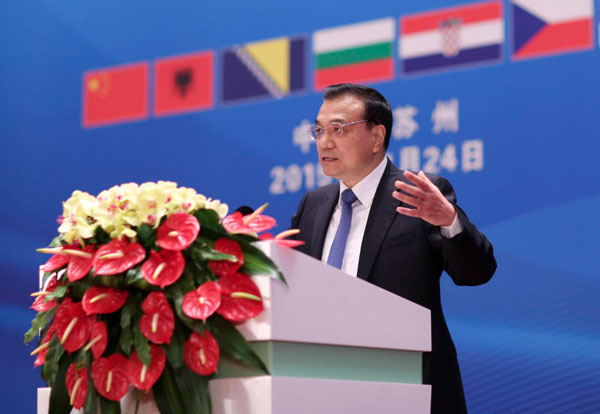 Chinese Premier Li Keqiang speaks during the fifth economic and trade forum between China and Central and Eastern European (CEE) countries, in Suzhou, Jiangsu province, China, Nov 24, 2015. [Photo/Xinhua]
SUZHOU, Jiangsu -- Chinese Premier Li Keqiang and leaders from 16 Central and Eastern European (CEE) countries gathered in east China's Suzhou on Tuesday to map out future cooperation.
The fourth summit of China and CEE countries will focus on new measures to improve cooperation in connectivity, investment, trade, finance, agriculture and people-to-people exchanges. The meeting is expected to produce a medium-term agenda and Suzhou guideline for China-CEE cooperation.
Li said that China's Belt and Road Initiative can be linked with the development strategies of CEE countries, as demonstrated by a major project signed to boost connectivity.
He proposed closer cooperation among port areas in the Baltic Sea, the Adriatic Sea and the Black Sea, saying China's advantage in port design and equipment manufacturing can help ports with favored conditions become a habitat for various industries.
"As long as CEE countries use products and equipment made by China, China will provide financing support," the premier said.
"The summit will not only enhance our mutual trust but also boost practical cooperation, which will drive the all-round cooperation between China and Europe," Li said.
He said China and CEE countries have shared opposition to terrorism and China is willing to further cooperation for fighting terrorism.
Established as an annual event in Warsaw in 2012, and subsequently staged in Bucharest and Belgrade, China-CEE summit has been regarded as supplementary to China's cooperation with the European Union.