China will keep its monetary policy stable even though the European Central Bank might announce a decision on Thursday to buy government bonds and loosen monetary policy, the chief of China's central bank said.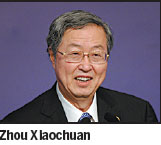 But Zhou Xiaochuan, governor of the People's Bank of China, said that policy uncertainties in the European Union have been partly responsible for increased volatility in global financial, securities and commodities markets.
"For the central bank, we want, basically, to keep monetary policy stable because this is not a nationwide serious problem," Zhou said on Wednesday at a global markets panel discussion during the World Economic Forum in Davos, Switzerland.
However, he said that China will be significantly affected by rising volatility in the global market as different markets in China are deeply interlinked with those of the world. He cited the Shanghai stock market, which has already linked to the market in Hong Kong, which exposes investors to the world.
He said China must stay alert to changes in the global markets, particularly because of the drop in oil and commodity prices. He said he believes these have brought on the current waves of global volatility, particularly when taken together with policy uncertainties and geopolitical hot spots.
Zhou said a cyclical adjustment is underway in China's housing market, which could be addressed in part by prudent macro policies such as loan-to-value ratios rather than by monetary policy. He also urged investors to focus on the fundamentals of companies to avoid any potential price bubble.
"Generally, if the average indicator of the Chinese economy is OK, the central bank would be reluctant to introduce a specific policy targeting the real estate market," he said.
Zhou said lower prices of global commodities, particularly oil, are helpful for China to achieve a faster growth, as its development has been heavily dependent on such imports.
"But there is another concern that this may lessen the people's interest in investing in renewable energy," Zhou said.
He noted that China has announced an ambitious plan to restructure its energy mix, which now involves heavy dependence on coal and oil burning. He added that the low prices may lead to bad decisions and slow down the country's transformation of its energy structure.
Zhou said China's new normal pattern features quality growth at medium and high speed. In this spirit, this country needs stable growth, a sound environmental approach and less pollution all at the same time.
Contact the writer at fujing@chinadaily.com.cn