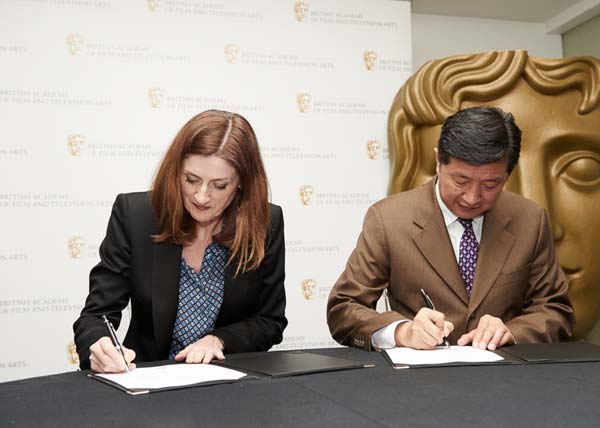 Zhang Huijun (R), President of the Beijing Film Academy and Amanda Berry OBE, Chief Executive of BAFTA sign the MOU at BAFTA's headquarters in London.[Photo by Wang Mingjie/chinadaily.com.cn]
China and the UK moved to cement their television and film ties as the leading Chinese film school, the Beijing Film Academy, came together with the British Academy of Film and Television Arts (BAFTA) to sign a Memorandum of Understanding in London.
The agreement outlines two sides' intention to work together to support greater collaboration between Chinese and British film and television students, and industry professionals.
Zhang Huijun, President of the Beijing Film Academy and Amanda Berry OBE, Chief Executive of BAFTA, signed the MOU at BAFTA's headquarters in London last week.
The newly formalized relationship is part of BAFTA's continuing program of activity that aims to encourage creative and cultural exchanges between the UK and China, bringing together talented individuals from the film, television and games industries to share their skills and expertise.
Areas of cooperation between the Beijing Film Academy and BAFTA are likely to include student scholarships, research, and learning events such as masterclasses.
The agreement comes as BAFTA prepares to expand its scholarship program, which began in Hong Kong, into the Chinese mainland, enabling Chinese and British citizens in financial need to study as an international student in the UK or China respectively.
Early this year, a film co-production treaty between China and the UK at the GREAT Festival of Creativity was ratified, allowing all eligible co-productions to be shown in China.
Currently, China permits only 34 revenue sharing non-domestic titles to be shown in Chinese cinemas each year. As such, many more UK films will be shown to Chinese audiences than current restrictions allow.
"The signing of the Sino-UK Film Co-Production Treaty heralds the start of a new era in collaborative film production between the UK and China," said Miao Xiaotian, President of the China Film Co-production Corporation.
"I have reason to believe that it will open the way for broader cooperation between our respective film industries. We can look forward to a future of integrated development and win-win cooperation," Miao added.
Amanda Nevill, CEO of the British Film Institute, hailed the cooperation, saying "the film Co-Production Treaty represents a hugely significant moment for UK film and opens the door to a relationship with the largest growing film industry in the world, allowing our filmmakers to collaborate with and contribute to this success story."
To contact the reporter: wangmingjie@mail.chinadailyuk.com