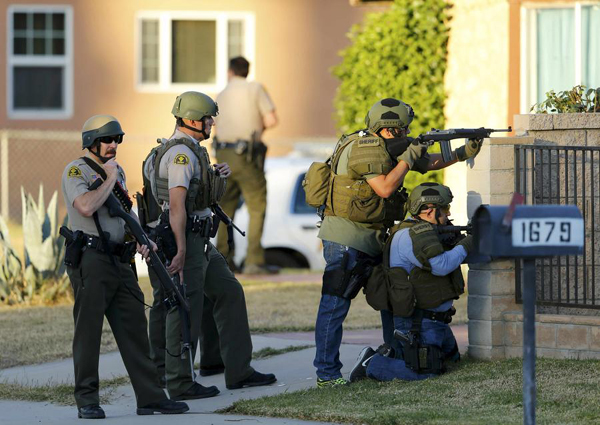 Police officers conduct a manhunt after a shooting rampage in San Bernardino, California December 2, 2015. [Photo/Agencies]
CAIRO - The Islamic State (IS) militant group said on Saturday that two followers of the group carried out the shooting attacks in California on Wednesday that killed 14 people, SITE Intelligence Group reported.
"Two followers of Islamic State attacked several days ago a center in San Bernadino in California," the group's daily broadcast al-Bayan said.
The shooting attack took place on Wednesday during a party at a social services center in the Southern Californian city of San Bernardino, killing 14 people.
On Friday, a US Federal Bureau of Investigation (FBI) official said that investigators have found "indications of radicalization by the killers and of potential inspiration by foreign terrorist organizations."
The shooters have been identified as a U.S.-born man of Pakistani origin, Syed Rizwan Farook, and his wife, Tashfeen Malik, a Pakistani who had come to the United States on a fiancee visa.
The couple was shot dead in a gunfight with police hours after the attack.