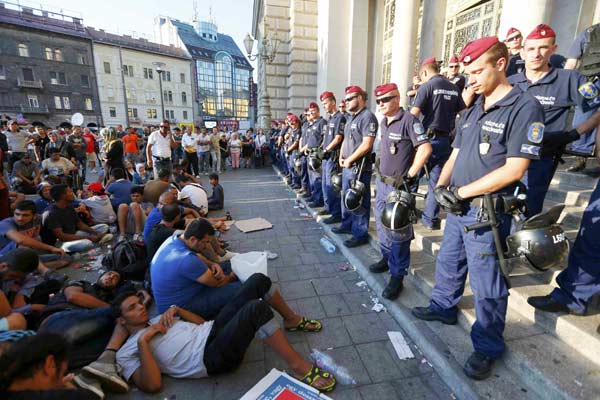 Migrants form a sit-down demonstration as police block the entrance to the main Eastern Railway station in Budapest, Hungary, September 1, 2015. [Photo/Agencies]
Officials shut the Budapest train station altogether on Tuesday, then reopened it but barred entry to migrants. The decision was a reversal from Monday, when Hungary and Austria let trainloads of undocumented migrants head for Germany.
Government spokesman Zoltan Kovacs said the closure was an attempt to enforce EU law. The presence of about 2,000 people camped out in 40 degree-Celsius (104-Fahrenheit) heat in the square next to the station showed how hard that would be.
"We are thousands here, where should we go?" said Marah, a 20 year-old woman from Aleppo, Syria, who said her family had bought tickets for a Vienna-bound train.
European laws, known as the "Dublin rules", require asylum seekers to apply in the country where they enter the EU and stay there until their applications are processed, even though 26 members of the bloc have no border controls between them.
The countries where most first enter the European Union - Italy, Greece and Hungary - say they have no capacity to process applications on such a scale.
Germany announced last month it would allow Syrians arriving from elsewhere in the EU to apply for asylum without being sent back to the country where they entered the bloc.
"The decision, driven by practical considerations ... not, in most cases, to enforce the sending back of Syrian asylum seekers to other EU member states underlines the humanitarian responsibility of Germany for these particularly hard hit refugees," a German Interior Ministry Spokesman said.
"Germany has not suspended Dublin. Dublin rules are still valid and we expect European member states to stick to them."