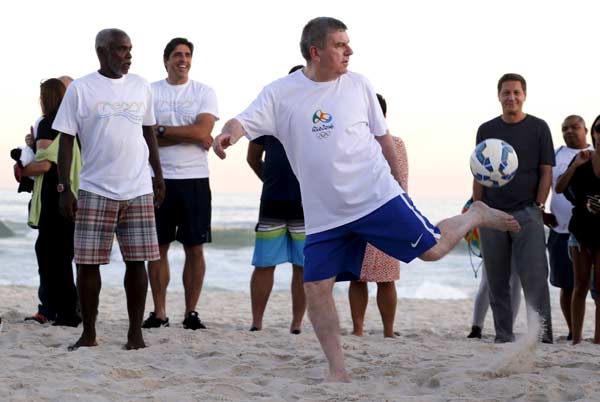 President of the International Olympic Committee (IOC) Thomas Bach plays soccer on Barra da Tijuca beach in Rio de Janeiro, Brazil, Aug 4, 2015. [Photo/Agencies]
RIO DE JANEIRO - International Olympic Committee president Thomas Bach said on Tuesday that he had no special worries for Rio Olympics and believed the polluted waters would be fine by the time the Games start.
Rio Olympics will celebrate one year to go milestone tomorrow and Bach participated in a sports activity on Rio's beach just after he arrived in the city.
"I have no special worries because I'm very confident that the organizing committee and all levels of government will continue this dynamic way to work," said Bach after playing football and volleyball with current and former Brazilian Olympians on the beach.
Privately commissioned tests of the water quality where athletes will be competing during the Rio Olympics revealed last week a high level of disease-causing viruses.
The waters along Rio's Atlantic coast, including Guanabara Bay where sailing events will be held, have been polluted for years and successive governments have spent hundreds of millions of dollars in order to clean it, however little effect was brought.
"What is important is that we will have a good condition for the athletes where the competition is taking place," Bach said.
Bach said that an Olympic test event triathlon was held over the weekend, with competitors swimming alongside Rio's Copacabana beach.
"Everything is going in the right direction. The waters have to be monitored closely. In one year from now, I think we would see great competition," he added.
"I'm very confident in one year from tomorrow, we will all be overwhelmed by the wonderful opening ceremony and the hospitality of Brazilians."