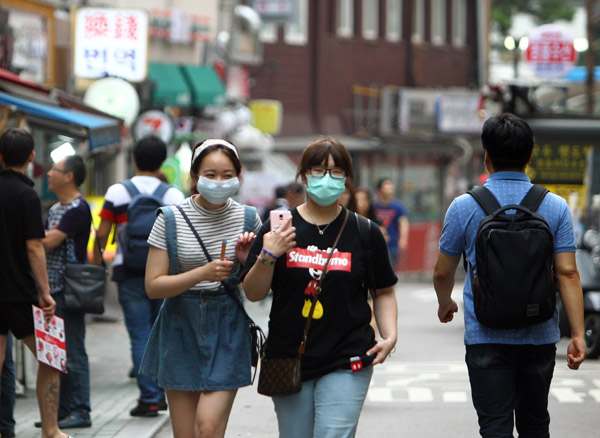 Tourists, wearing masks to prevent contracting Middle East Respiratory Syndrome (MERS), walk on a street in central Seoul, South Korea, June 24, 2015. [Photo/Xinhua]
SEOUL - South Korea's central bank on Thursday kept its policy rate on hold at an all-time low of 1.5 percent after lowering it by a quarter percentage point the prior month to counter flagging domestic demand caused by the outbreak of Middle East Respiratory Syndrome (MERS).
Bank of Korea (BOK) Governor Lee Ju-yeol and six other policy board members decided to freeze the benchmark seven-day repurchase rate at 1.5 percent to wait and see the effect of fiscal and monetary stimulus packages.
The BOK cut the rate below 2 percent in March for the first time in history after lowering it by 25 basis points in August and October last year respectively. The rate was cut again to 1.5 percent last month.
The 1 percentage-point cut made in the past 12 months led almost all experts to predict the rate on hold in July. According to a Korea Financial Investment Association (KFIA) poll of 114 fixed-income experts, 98.2 percent of the respondents predicted the rate freeze.
The overwhelming rate-freeze prediction came as monetary and fiscal stimulus packages were expected to bolster the MERS-hit South Korean economy.
The deadly viral disease has infected 186 South Koreans, among whom 35 died, since the first case was identified on May 20. Consumers refrained from entertainment and consumption for contagion fears.
In June when such fears reached a peak, sales in department stores and discount chains shrank 10.7 percent and 9.7 percent each compared with the same month of last year. Sales of gasoline and diesel reduced 2.9 percent.
To counter the negative economic effect, the finance ministry announced 11.8 trillion won ($10.4 billion) of supplementary budget plan together with about 10 trillion won of other stimulus measures.
The accommodative monetary policy and the fiscal stimulus package were expected to prop up the Asia's fourth-largest economy, but some of market watchers saw the door open for additional rate cuts if the MERS has worse-than-expected economic ramifications.
"Further cuts are on the table as the economy struggles with the MERS outbreak," Emily Dabbs, an economist at Moody's Analytics in Sydney, said in a report Tuesday, forecasting the rate could be lowered to 1 percent by 2016 if economic conditions worsen.