Come and meet Britain's worst would-be driver, pay attention to your paper money which could feature a new face and buy a house in Indonesia and get the chance to marry its former owner. Interesting, funny and downright odd anecdotes from around the world are all in our kaleidoscopic news review of the week.
Huge alligator takes a stroll on Florida golf course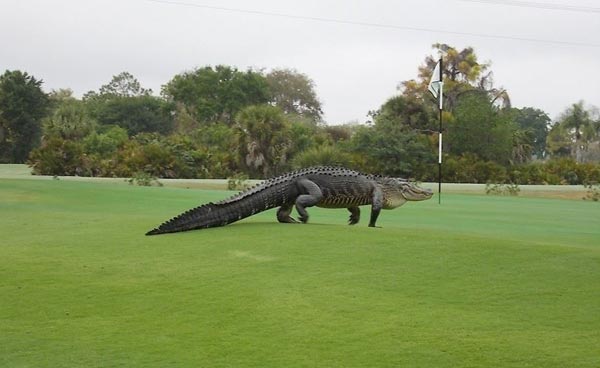 A handout photo released by the Myakka Pines Golf Club showing a large alligator walking across a green on its Golf course in Englewood, Florida, March 12, 2015. [Photo/IC]
The image of a giant alligator crossing the greens at a US golf course went viral last week, receiving more than 13,000 shares and hundreds of thousands of views just a few days after being posted on social media.
The 13-foot-long (4-meter-long) beast, described as "a dinosaur-looking reptile" on the Facebook page of the Myakka Pines Golf Club in Englewood, Florida, was spotted in early March at the No 7 green moving from one pond to another, stopping periodically to sun itself.
Alligators, already old hat in Florida, are among dozens to be found in the club's grounds. The 100 golfers playing at the time were undeterred by the intruder and a women's tournament went ahead as planned regardless!