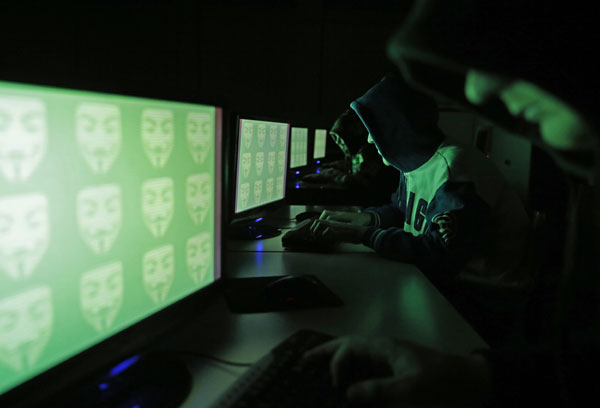 People pose in front of a display showing the word 'cyber' in binary code, in this picture illustration taken in Zenica December 27, 2014.[Photo/Agencies]
BEIJING -- US President Barack Obama's criticism of the upcoming counterterrorism law of China is utterly groundless and another piece of evidence of arrogance and hypocrisy of the US foreign policy.
Although the enactment of a Chinese law is an entirely internal affair of China, Obama insisted that the measure, which would require technology firms to give Chinese authorities surveillance access in order to collect intelligence about terrorists, is "something they are going to have to change if they are to do business with the United States".
To begin with, the provisions are written for and solely for acquiring more and better counterterrorism intelligence, as China is facing severe threats from various domestic terrorists, for instance, the so-called "East Turkestan Liberation Organization."
Terrorists nowadays use more and more modern technologies for communications and collaboration. And it has become a common practice in many Western countries, including the US itself, to keep a close watch on the Internet and telecommunication networks for possible hints of terrorism and other criminal activities.
The US Federal Bureau of Investigation (FBI) and the National Security Agency both have access to the equipment of major US technology firms.
FBI Director James Comey publicly warned companies like Apple and Google in 2014 against using encryption that the law enforcement authorities cannot break.
While defending the legitimacy and necessity of similar behaviors in his own country, Obama's criticism of Chinese counterterrorism law obviously shows selfishness and hypocrisy of the US foreign policy.