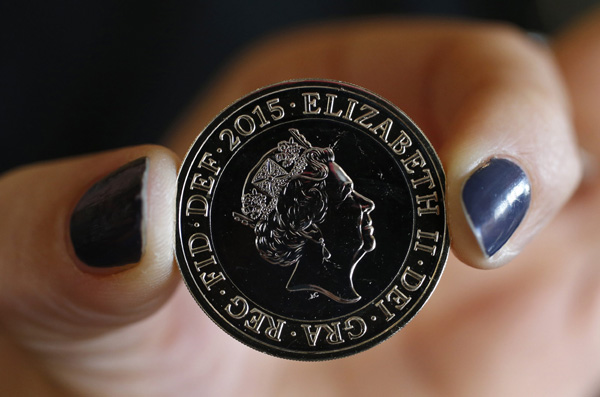 A gallery assistant poses with a 2-pound coin with the new portrait of Britain's Queen Elizabeth following it's unveiling at the National Portrait Gallery in London March 2, 2015. [Photo/Agencies]
LONDON - The Royal Mint on Monday unveiled a new coinage portrait of Queen Elizabeth II, which is the fifth coin portrait to be created of her during her 63-year reign.
The new profile shows the British monarch wearing the Royal Diamond Diadem crown worn for her coronation and drop earrings. The Royal Mint said the new coins would start production on Monday and would be in circulation later this year.
The portrait was designed by Jody Clark, 33, who is the youngest of the five designers to have created Queen Elizabeth II' s portrait for the circulating coin.
Clark's design was selected from a number of anonymous submissions to a design competition, the Royal Mint said.
"The news that my design had been chosen was quite overwhelming, and I still can't quite believe that my royal portrait will be featured on millions of coins, playing a small part in The Royal Mint's 1,000 year history," Clark said.
"This change of royal portrait will make 2015 a vintage year for UK coins, and it will be hugely exciting for us all to see the new design appear on the coins we use every day," said the Royal Mint's chief executive, Adam Lawrence.
The coin portrait of the Queen is updated every 15 to 20 years.
The current coinage portrait of the Queen was designed by Ian Rank-Broadley FRBS in 1998.
The first portrait of the British Queen was created in 1953.