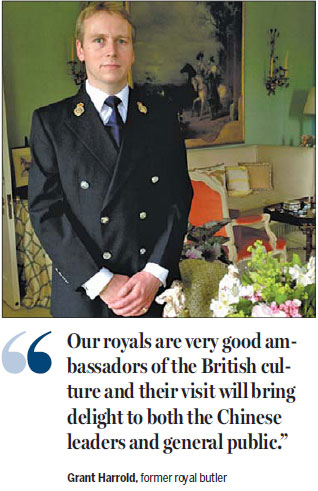 More Chinese sign up for British etiquette classes
Britain's royal family and aristocratic culture have always captured the imagination of Chinese people, who can now get an insight into the elite world with etiquette classes from former royal butler Grant Harrold.
"Increasingly there are more Chinese students coming to my etiquette classes, because they want to know how things are done properly in the United Kingdom," Harrold said.
"They want to know about how etiquette operates in the UK, how the royal family lives and does things. They want to know how to live like a royal," he added.
Harrold, who was a royal butler and a member of the Royal Household of Their Royal Highnesses The Prince of Wales and The Duchess of Cornwall, established his own company Nicholas Veitch, which organizes fine dining events, etiquette dinners and butler tuition.
During the past few years, Harrold's team of about seven tutors have given lessons to a few hundred students, of which about 50 to 60 were from China, mainly businesspeople and their butlers.
Harrold said generally the businesspeople acquired their wealth through China's rapid economic transformation and were eager to live a more refined life, so looked to the UK as an obvious place to learn from.
"They now have butlers and wish to come to our classes to understand what to expect and how to manage their butlers. These changes in China prove to be really exciting for us," he said.
Harrold has also been approached by Chinese firms to discuss the potential of opening a similar school in China and said he was excited to explore such an opportunity.
Harrold said although the stereotypical image of a butler has been influenced by films and series such as Downtown Abbey, the actual work of a butler in modern society is far more varied and involves strong multitasking skills.
The tasks of a traditional butler, such as preparing for dinners, garden parties, table settings and managing other household staff, are still relevant today but modern butlers also take on the role of personal assistant for the household.
"So the butler would act as a host at parties and dinners, to welcome the guests, as if he was the host. He would also look after the possessions in a household, as if they were his own, but in a very subtle way and never cross the line," said Harrold.
Harrold was born in 1978 in Airdrie, North Lanarkshire and wanted to work for the royal family from a young age after watching documentaries such as Elizabeth R.
In the late-1990s, Harrold applied to work for the 13th Duke of Bedford at Woburn Abbey. After five years at Woburn, Harrold's brother, a footman for the queen, suggested he apply for a vacancy in Prince Charles' household.
He said working in such an intimate capacity for the royal family made him realize that they were very similar to any other family. "They are like my family, or your family, but because they are the royal family they are in the limelight for 24 hours a week, with many more duties on their plate."
"But it was absolutely a pleasure to look after them. I felt extraordinary, as if I was part of history," Harrold said.
The upcoming royal visit by Prince William, the Duke of Cambridge, to China will play a big role in cementing ties between the two countries especially from a cultural perspective, said Harrold.
"China and the UK are both fascinated by each other's cultures and traditions. Our royals are very good ambassadors of the British culture and their visit will bring delight to both the Chinese leaders and general public," he said.