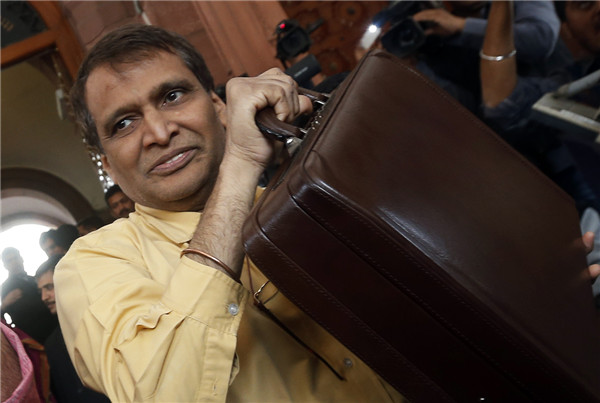 Indian Railway Minister Suresh Prabhu arrives at the parliament to unveil the railway budget in New Delhi Feb 26, 2015. India's railway budget, to be presented later on Thursday, will signal the direction of long-term reforms needed to revamp the world's fourth-largest rail network, Prabhu said. [Photo/Agencies]
NEW DELHI - The Indian government on Thursday presented its railway budget in the Parliament for the next financial year, with Railways Minister Suresh Prabhu spelling out the reformist as well as populist agenda for the world's fourth largest railway network.
The railways minister said that there would be no increase in passenger fares. "There will be no hike in passenger fares. We will ensure that passengers can buy tickets within five minutes. Also there will be an SMS alert service to inform commuters about train timings."
Pledging to make the railways an abode of cleanliness in accordance with Prime Minister Narendra Modi's 'Clean India campaign', he made an appeal to passengers: "Railways is your travelling home, please keep it clean."
Earlier reading out the budget speech, the minister also laid out four priority areas to reform railways.
"To deliver a sustained and measureable improvement in customer service. Make rail a safer means of travel. Expand capacity substantially and modernize infrastructure. Finally, make Indian Railways financially self-sustainable," he said.
In the morning, Prabhu gave a hint of what his first rail budget, saying, "It is a long journey, everything can't be accomplished in the first year."
This was Prime Minister Narendra Modi-led government's first full-fledged railway budget since the Bharatiya Janata Party swept to power in the general elections last year, decimating the Congress-led United Progressive Alliance which ruled India for over a decade.