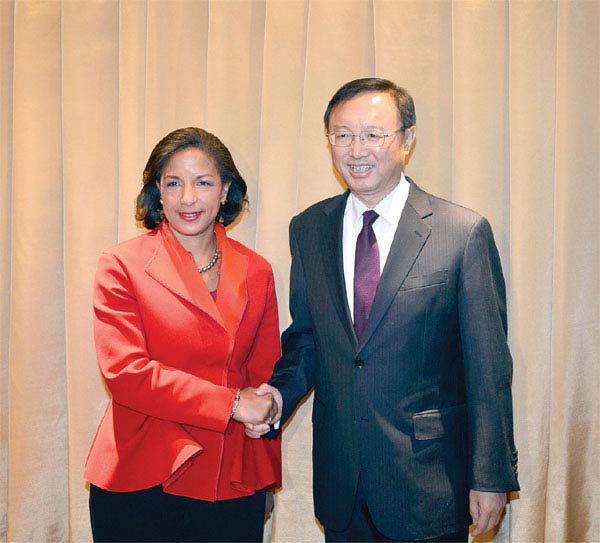 Chinese State Councilor Yang Jiechi meets with US National Security Advisor Susan Rice in New York to discuss a wide range of bilateral, regional and global issues, in particular the upcoming visit to the US by President Xi Jinping in September, Feb 25, 2015. [Photo/Xinhua]
NEW YORK-- Chinese State Councilor Yang Jiechi and US National Security Adviser Susan Rice agreed Wednesday that the two sides will work closely and make full preparations to ensure the success of Chinese President Xi Jinping's visit to the United States in September.
Xi has put forward important proposals for further advancing a new type major-country relationship between the two nations in a recent phone conversation with his US counterpart Barack Obama, Yang said.
Both sides should earnestly implement the important consensus reached by the two heads of state, respect each other's core interests and major concerns, actively explore pragmatic cooperation in various fields, properly handle differences and sensitive issues, among others, to further boost their ties in the new year, he added.
Rice said that the United States is willing to strengthen contacts and cooperation at various levels in accordance with the consensus reached by the two heads of state, and jointly cope with those regional and global challenges.
Meanwhile, the United States will effectively manage and control the differences between the two nations in a sincere and constructive way and keep the sound momentum of the US-China ties, Rice said.