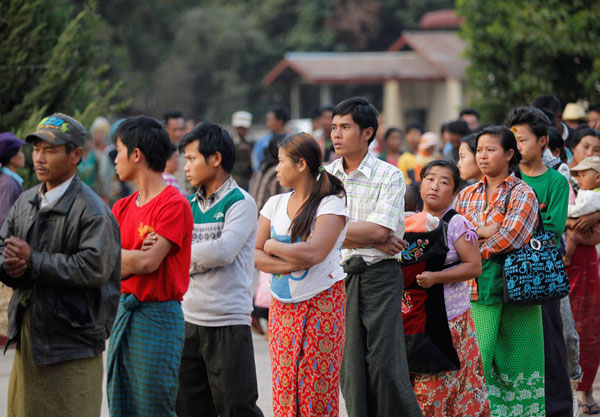 People fleeing from Laukkai, the capital of Kokang in Shan State, line up for food at a monastery functioning as a refugee camp in Lashio, Myanmar, February 16, 2015. [Photo/Agencies]
China has denied any involvement in recent violence in northern Myanmar, saying on Wednesday it will not allow any organizations or individuals to undermine its relations with its neighbor or stability of the border area.
At a news conference in Beijing, Foreign Ministry spokesman Hong Lei responded to claims that China is associated with a local ethnic militia, the Myanmar National Democratic Alliance Army, in Myanmar's Kokang region.
The area has been the scene of armed clashes with forces from the Myanmar government.
"China always adheres to the principle of noninterference in other countries' internal affairs, and it respects the sovereignty and territorial integrity of Myanmar," Hong said.
His remarks echoed a report by Chinese newspaper Global Times on Wednesday, in which the leader of the alliance denied receiving any help from Chinese citizens or mercenaries.
Peng Jiasheng, an ethnic Chinese commander, told the paper that since 2009 the alliance has strictly forbidden Chinese citizens from entering Kokang to join it.
"We will not accept Chinese citizens participating in armed actions, as this is only harmful to us," Peng said.
Sporadic clashes have broken out between Myanmar government forces and the alliance despite a cease-fire agreement signed in 1989. Heavy fighting began again on Feb 9 in the Kokang region of Myanmar's northeastern Shan state.
Song Qingrun, a researcher of Myanmar studies at the China Institutes of Contemporary International Relations, said that China has never backed ethnic forces in combat against the Myanmar government, and that speculation about China's role behind the scenes would only undermine mutual trust.
In another development, Hong said companies from China and Cambodia have been studying cooperation on hydroelectricity.
The remarks followed Cambodian Prime Minister Hun Sen's announcement on Tuesday that construction of a mega-dam in southwestern Cambodia will not begin until 2018. China is the largest investor in developing hydro-electric plants in Cambodia, which faces electricity shortages. Some groups have claimed the dam will damage the environment.
Hong said, "We make it a requirement that relevant projects should meet Cambodia's laws and regulations on environmental protection."