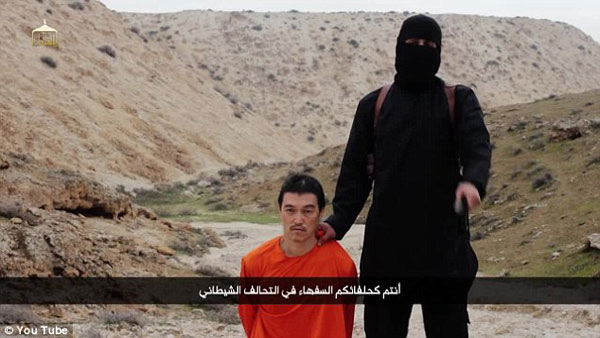 Screen caption of the video.
TOKYO - A video purporting to show the beheading of Japanese journalist Kenji Goto by Islamic State militants appears genuine, Defense Minister Gen Nakatani said on Sunday.
Tokyo's Metropolitan Police Department reported to a meeting of ministers from Prime Minister Shinzo Abe's government that the video "has a high degree of credibility," Nakatani told reporters.
Japanese Chief Cabinet Secretary Yoshihide Suga told a press conference on Sunday that the latest video posted online by the Islamic State militants purportedly showing Japanese hostage Kenji Goto beheaded is "likely authentic, " local media reported.
Goto's mother, Junko Ishido, told NHK TV her son's death showed he was a kind gentle man, trying to save another hostage. That hostage had been shown as purportedly killed in an earlier video.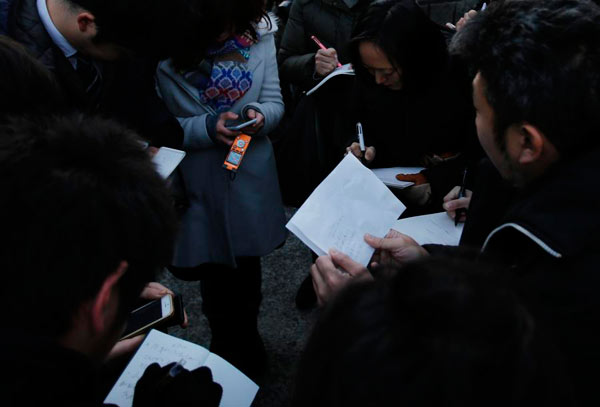 Journalists share comments given by Junko Ishido, mother of Kenji Goto, a Japanese journalist who was held captive by Islamic State militants, in front of her house in Tokyo February 1, 2015. [Photo/Agencies]
Islamic State militants said on Saturday they had killed Japanese hostage Kenji Goto, after the apparent failure of sustained international efforts to secure his release through a prisoner swap.
The hardline Islamist group, an offshoot of al Qaeda which controls large parts of Syria and Iraq, released a video which purported to show the beheaded body of journalist Goto and threatened further attacks on Japanese targets.
Islamic State has said Goto was held along with a Jordanian pilot. Efforts to win their release had focused on the possible release of an Iraqi would-be suicide bomber jailed in Jordan 10 years ago. The video did not mention the pilot.
Japan condemned the militants and said Prime Minister Shinzo Abe's cabinet would meet in response to the video, which showed a hooded man standing over Goto with a knife to his throat, followed by footage of a head put on the back of a human body.
The release of the video came exactly a week after footage purportedly showing the beheaded body of another Japanese hostage Haruna Yukawa.
"I cannot help feeling strong indignation that an inhuman and despicable act of terrorism like this has been committed again," Chief Cabinet Secretary Yoshihide Suga said, adding the video appeared to show Goto. "We resolutely condemn this."