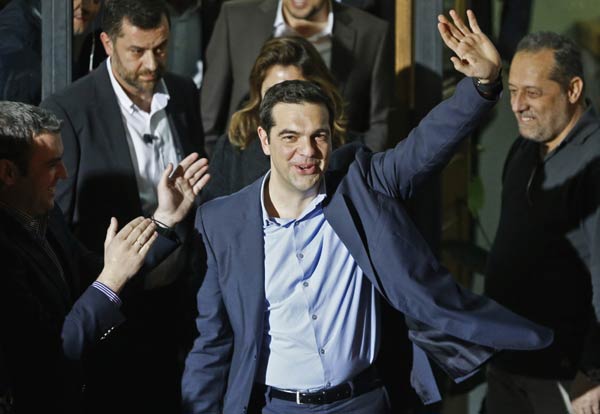 Head of radical leftist Syriza party Alexis Tsipras waves while leaving the party headquarters after winning the elections in Athens, January 25, 2015. [Photo/Agencies]
ATHENS -- Alexis Tsipras, SYRIZA (the Coalition of the Radical Left) party leader was sworn in on Monday as Greece's 186th Prime Minister to head a coalition government after winning Sunday's national elections.
Tsipras was born in 1974 in Athens. He is a civil engineer, graduate of the the National Technical University of Athens, with postgraduate studies in Urban and Regional Planning.
He joined the left in his school years and participated actively in the pupils' movement from 1990 to 1991 and then in the student movement.
In 1999 he was elected Secretary of the Youth of Synaspismos party, a position he maintained until the 3rd Conference of the Organization (March 2003).
In the 4th Congress of Synaspismos (December 2004) he was elected member of the Central Political Committee and then of the Political Secretariat of the party, and became in charge of Education and Youth policies.
In October 2006 he was elected councilor in the municipality of Athens, as head of the municipal movement "Open City."