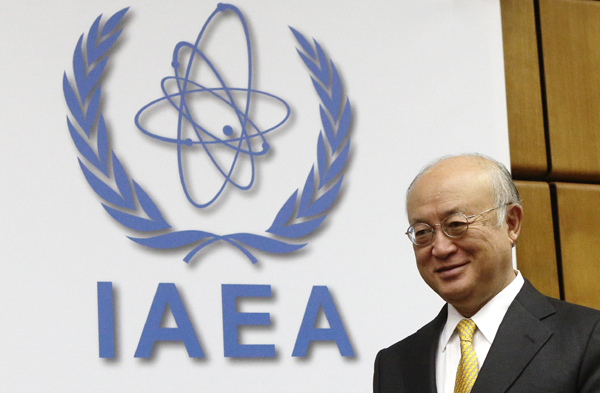 International Atomic Energy Agency (IAEA) director general Yukiya Amano arrives for a board of governors meeting at the IAEA headquarters in Vienna, Dec 11, 2014. [Photo/Agencies]
SINGAPORE - The center of world nuclear energy expansion has shifted to Asia following the Fukushima incident, the International Atomic Energy Agency Director General Yukiya Amano said on Monday.
Speaking at a public lecture in Singapore, Amano said about two thirds of the world's 69 nuclear reactors under construction at present are in Asia, which is also the world's most dynamic economic region.
"The use of nuclear power will continue to expand, but the center of the expansion has shifted to Asia. This is a big difference," he said.
There are currently 439 nuclear reactors in operation around the world, according to statistics from the International Atomic Energy Agency.
The world also witnessed a long period of slowdown in the construction of nuclear power plants following the catastrophic meltdown of Soviet nuclear reactor in Chernobyl in 1986.
Asked when the interest in nuclear energy will come back to the level seen before the Fukushima incident, which resulted in the meltdown of three of the plant's six nuclear reactors in a severe crisis in March 2011, Amano said, "globally, we don't know yet."