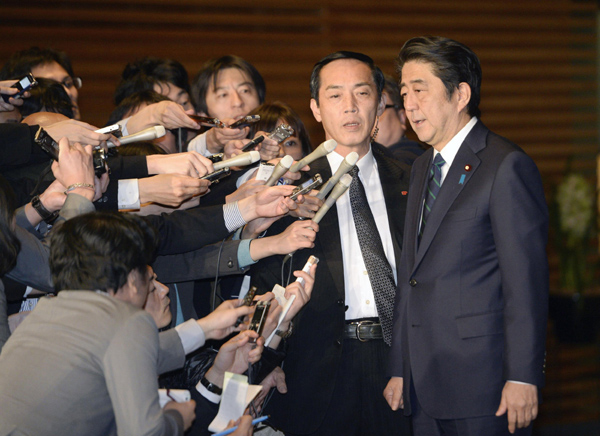 Japan's Prime Minister Shinzo Abe (R) speaks to the media at his official residence in Tokyo, Jan 25, 2015. [Photo/Agencies]
TOKYO -- Japan Prime Minister Shinzo Abe on Sunday called for the immediate release of a Japanese journalist held by Islamic State after a video surfaced claiming that a fellow Japanese captive had been executed.
Japan government officials said they had not confirmed the authenticity of the recording and an image of what appeared to be the decapitated body of Japanese captive Haruna Yukawa, who went missing in Syria last August.
Abe called for the immediate release of the remaining Japanese captive, reporter Kenji Goto.
"We are using every diplomatic channel and means to work toward a release," Abe told reporters in brief remarks after calling a meeting with his foreign, defence and other ministers after midnight in Tokyo.
The sudden escalation of the hostage crisis has become a test for Abe and the dominant news story in Japan since Tuesday when Islamic State militants released a video showing Goto and Yukawa kneeling with a knife-wielding, masked man demanding a $200 million ransom for their release.
The 72-hour deadline set in the first video expired on Friday.
"This act of terrorism is an outrageous and unacceptable act of violence," Abe said on Sunday. "I feel a strong sense of anger and firmly condemn this. I again strongly demand the immediate release of Mr Kenji Goto unharmed."
Yukawa, 42, was seized by militants in August, after he went to Syria in what he described as a plan to launch a security company. Goto, 47, a veteran war correspondent, went into Syria in late October seeking to secure Yukawa's release, according to friends and business associates.
The new recording, which was released on YouTube late on Saturday before being deleted, showed an image of a gaunt Goto in an orange t-shirt with audio of what appeared to be him making a statement in English.
In the apparent recording, Goto says Yukawa was "slaughtered in the land of the Islamic Caliphate." But the journalist said the government of Japan could save him by working through Jordan where Abe set up an office earlier this week to coordinate the government's response to the hostage situation.
Goto says the militants would release him in exchange for the release of al-Qaeda linked attempted female suicide bomber Sajida al-Rishawi, an Iraqi held in Jordan. He says the militants have dropped the ransom demand.
"I would like to stress how easy it is to save my life," the recording says. "You bring them their sister from the Jordanian regime, and I will be released immediately. Me for her."
Rishawi was arrested shortly after she failed to blow herself up in one of three deadly hotel bombings that hit the Jordanian capital in 2005.
Japanese officials have said little about how they were looking to secure the release of the captives over the past week.
Abe and other officials have said Japan will press ahead with plans to offer over $200 million in humanitarian aid to help deal with refugees displaced by Islamic State.
Abe announced that aid a week ago in Cairo during a trip through the Middle East when he also called Islamic State a threat to the region and the international order.
The Islamic State has executed five British and American aid workers and journalists in recent months. Yukawa's capture by Islamic State fighters outside Aleppo in August was the first time a Japanese citizen has been held by the group.
Goto's mother, who had appeared before reporters on Friday in an emotional plea for his release, said she remained hopeful.