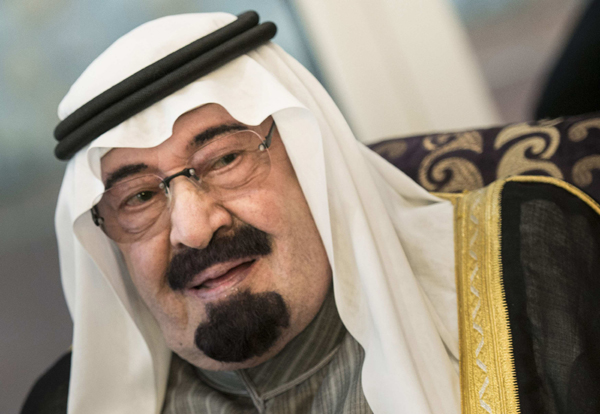 Saudi Arabia's King Abdullah bin Abdulaziz waits before a meeting with US Secretary of State John Kerry (not pictured) at his desert encampment in Rawdat al-Khuraim in this January 5, 2014 file photo. [Photo/Agencies]
CAIRO - World leaders paid tribute to late Saudi King Abdullah, who died Friday, noting that he made major contributions in leading his country.
The UN Secretary-General Ban Ki-moon paid tribute to the deceased Saudi king and extended his condolences to the bereaved family of Abdullah, the government and people of Saudi Arabia, said a statement from Ban's spokesperson at the UN headquarters in New York.
"King Abdullah made major contributions to the development of the Kingdom. Under his leadership over many decades in different high-level positions in government, the Kingdom of Saudi Arabia achieved remarkable progress and prosperity for its people," it said.
Ban also paid tribute to Abdullah's efforts to tackle regional and international challenges and to promote dialogue among the world's faiths.
"As the driving force behind the Arab Peace Initiative, King Abdullah left a tangible legacy that can still point the way toward peace in the Middle East," said the statement, adding that Ban is also grateful for Abdullah's generous humanitarian and developmental support for people across the Arab region and wider world.
US President Barack Obama expressed condolences at the death of Abdullah, while praising him for his steadfast support to a strong US-Saudi relationship.
"It is with deep respect that I express my personal condolences and the sympathies of the American people to the family of King Abdullah bin Abdulaziz and to the people of Saudi Arabia," Obama said in a statement issued by the White House.
"As our countries worked together to confront many challenges, I always valued King Abdullah's perspective and appreciated our genuine and warm friendship," Obama said, adding that the closeness and strength of the partnership between the two countries is part of King Abdullah's legacy.
The US president also praised Abdullah for taking "bold steps" in advancing the Arab Peace Initiative, and credited the Saudi king for being dedicated to the education of his people and for greater outreach to the international community.