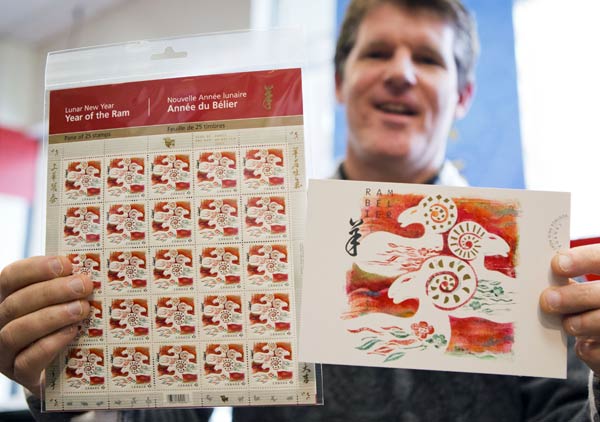 A man shows the Chinese Year of the Ram stamp he bought in Toronto, Jan 8, 2014. [Photo/Xinhua]
TORONTO - Canada's national carrier launched a commemorative stamp in Toronto on Thursday to honor the upcoming Chinese Year of Ram. Canada Post's Atrium at the Bay office was the site of a media scrum more fitting of a rock personality than a stamp.
The auspicious stamp was unveiled by Jim Phillips, Canada Post's director of stamp services, and Zhang Chuanbing, Chinese acting consul general in Toronto, along with stamp designer Helene L'Heureux.
"The Lunar New Year is a time that honors both deities and ancestors, and the Lunar New Year is the most important date in the Chinese calendar and an important date in Canada Post's philatelic calendar," Jim Philips waxed euphorically.
This year, L'Heureux was given the honor of designing these sought-after stamps. L'Heureux shared her thoughts on her design inspiration for the stamp. "I looked inside books, libraries, and museums and I found this interpretation of the three rams breeding in spring. It meant good luck. " the French-Canadian designer told Xinhua.