BEIJING - Chinese researchers have detected a "seafloor event" near the waters between Malaysia and Vietnam, an area suspected to be linked with the missing Malaysian jetliner MH370, a university announced on Friday.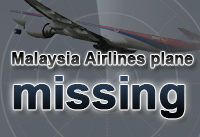 The event occurred at about 2:55 am local time on Saturday, about one and a half hours after the plane's last definitive sighting on civilian radar, according to a research group on seismology and physics of the earth's interior under the University of Science and Technology of China.
The area, 116 km northeast from where the last contact with the Boeing plane was recorded, used to be a non-seismic region, the group said.
"The seafloor event could have been caused by the plane possibly plunging into the sea," the research group said.
The location of the event was identified based on records of two seismographs located in Malaysia.
If the data is proved to be linked to the missing flight, "the strength of the earthquake wave indicates the plunge was catastrophic," according to the research group.
The Boeing 777 aircraft suddenly vanished from radar early Saturday morning while carrying 227 passengers and 12 crew members from Kuala Lumpur to Beijing. Of the passengers, 154 are Chinese.