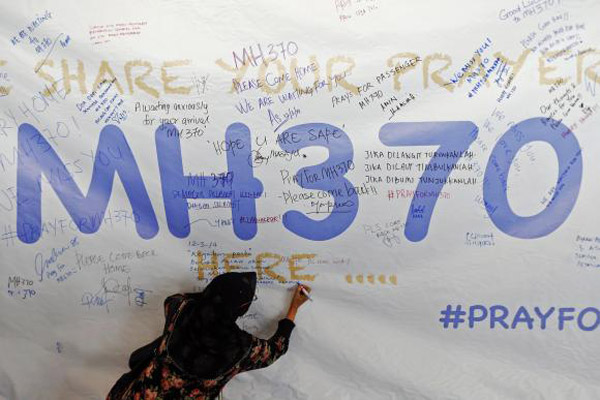 A woman writes a message of support and hope for the passengers of the missing Malaysia Airlines MH370 on a banner at Kuala Lumpur International Airport March 12, 2014. [Photo/Agencies]
Boeing Co on Wednesday said the missing 777 Malaysia Airlines jetliner was not subject to a new US safety directive that ordered additional inspections for cracking and corrosion on certain 777 planes.
The Federal Aviation Administration last week ordered additional, repeated inspections of certain Boeing 777 aircraft, warning that corrosion and cracking could lead to rapid decompression and damage to the structure of the aircraft.
The Federal Aviation Administration told airlines to inspect US registered aircraft for cracking, corrosion and potential repairs after receiving a report about a 16-inch crack in the fuselage skin underneath an adapter for the airplane's satellite communications antenna.
Boeing said it worked closely with the FAA to monitor the fleet for potential safety issues and take appropriate actions. But it said the 777-200ER Malaysia Airlines aircraft did not have that antenna installed and was not subject to the FAA order.
An FAA spokesman on Wednesday also cautioned against linking the directive, one of hundreds issued annually by the agency, to the disappearance of Malaysia Airlines flight MH370.
"There is absolutely no indication whatsoever that this had anything to do with the accident," said the spokesman, who also noted that airplanes were built with redundancies in the fuselage and inspection process to catch cracks or corrosion before they got bigger and caused problems.
The FAA first proposed the additional inspections for 120 US-registered aircraft in September before finalizing the directive in February and then publishing them in the US Federal Register on March 5. The new rule takes effect April 9.
"We are issuing this airworthiness directive to detect and correct cracking and corrosion in the fuselage skin, which could lead to rapid decompression and loss of structural integrity of the airplane," the agency said in the directive.
Aviation authorities in other countries typically follow the FAA's lead in issuing such directives, but it was not immediately clear if Malaysia had already followed suit.
A dozen countries, using 42 ships and 39 aircraft, are helping to search for the missing plane, which disappeared Saturday less than hour after taking off from Kuala Lumpur with 239 people on board.