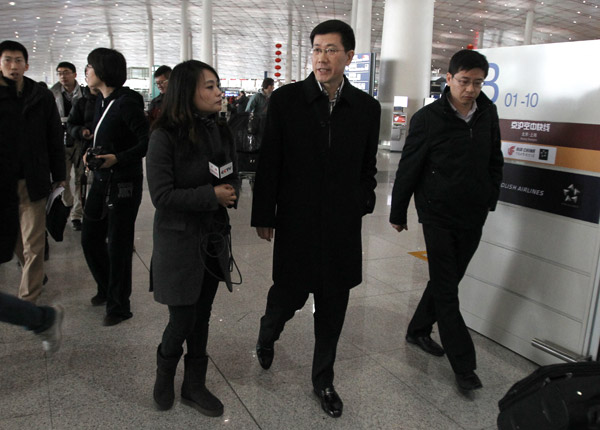 Guo Shaochun (center), head of China's joint working group for handling the Malaysia Airlines incident, is interviewed at Beijing Capital International Airport on Monday before his departure for Malaysia. Search and rescue remains the top priority at the moment, Guo said. Zhu Xingxin / China Daily 
Massive armada of ships and aircraft combs S. China Sea
China is making every effort to find the Malaysian Airlines jet, Flight MH370, which has been missing since early Saturday morning along with more than 150 Chinese passengers, officials said on Monday.
Missile frigate Mianyang from the South Sea Fleet of the People's Liberation Army navy is searching for signs of survivors, having arrived at the suspected crash site at 3:50 am on Monday, three hours earlier than expected, according to a statement released by the navy.
The ship has been using all of its detection apparatus in the hunt for the missing aircraft, including optical instruments to search for floating debris.
The amphibious landing craft Jinggangshan, which departed from a port in Guangdong province on Sunday, will reach the site before midday on Tuesday, the statement said.
As the ship set sail from the island province of Hainan, two of the fleet's helicopters landed on the ship, loaded with medical supplies and other equipment to be used in the operation.
Liu Honghu, captain of the Jinggangshan, said the ship is sailing at full speed and those aboard are "racing against time to search for and save our compatriots and the other people on board".
There are 10 divers, 51 marines and 14 medics on the ship, he added.
Meanwhile, two more warships are en route to join the search operation, navy sources said.
Missile destroyer Haikou and amphibious landing craft Kunlunshan set off at about 4 pm on Sunday from two ports in southern China, carrying 50 marines as well as assault boats and rubber dinghies.
Coastguard vessel China Coastguard 3411 has been engaged in search and rescue in waters around the suspected crash site since Sunday afternoon.
It found an oil slick measuring 20 kilometers by 200 meters on Monday afternoon and has sent a sample of the oil to authorities for tests.
The Ministry of Transport's ship South China Sea Rescue 115 arrived at the suspected crash site at about 8 pm on Monday and has begun to search the area.
The largest patrol vessel in the South China Sea, Haixun 31, which departed from Sanya on Sunday afternoon, will arrive on Tuesday afternoon, carrying 50 rescuers and equipment such as a helicopter and sonar systems.
Rescue vessel South China Sea Rescue 101 will also join the search on Tuesday afternoon.
A 13-member working group sent by the Chinese government arrived in Kuala Lumpur on Monday evening to work with Malaysian authorities on rescue and investigation efforts.
The group is led by Guo Shaochun, deputy head of consular affairs with the Foreign Ministry, and is composed of officials from public security and transport ministries and the civil aviation administration.
Another team dispatched by the Ministry of Public Security discussed cooperation issues with Malaysian officials in Kuala Lumpur on Monday afternoon, according to Huang Huikang, China's ambassador to Malaysia.