Almost three days after the Malaysia Airlines Flight MH370 disappeared, families and friends of the passengers are still clinging to fading hopes, as they urged authorities to expand their search.
The flight bound for Beijing from Malaysian capital Kuala Lumpur, with 239 people on board, is still missing despite a multinational search-and-rescue effort, Malaysia Airlines managers said on Monday.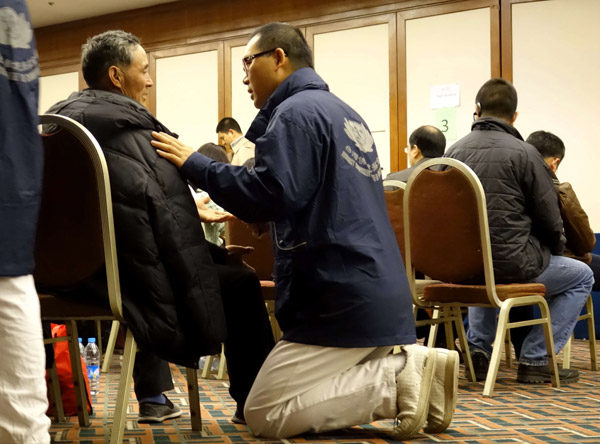 A volunteer from Taiwan's Tzu Chi Foundation comforts a relative of one passenger aboard the missing Malaysia Airlines flight at the Lido Hotel in Beijing on Monday. The air carrier has arranged for the families to rest at the hotel while waiting for updates. Cai Daizheng / For China Daily 
For the families of the passengers, any clue could prove encouraging.
Tempers flared during a meeting between families and friends of the passengers and representatives from Malaysia Airlines, as they complained about a lack of information and slow response by the airlines.
"Please do not tell us the search is ongoing anymore. We want to know which areas you have covered, how many ships have been used and whether you have used the best equipment possible," said a woman.
During a meeting with officials from the Beijing municipal government, the Ministry of Foreign Affairs, the Ministry of Transport and the Civil Aviation Administration of China on Monday afternoon, the families said they have tried calling their missing loved ones, and on at least two occasions were able to get through but no one answered the phone.
"I tried calling yesterday, and it still rang. I tried today, but I cannot get through. It totally made sense that a cellphone battery would last for three days," said a man in his 60s, whose son is on the missing airplane. He refused to give his name.
Other family members said they had been monitoring their loved ones' QQ accounts (an instant messaging tool popular in China), which showed that they had been online for the last 48 hours.
"We wonder if they could at least use the technology they have in their hands to locate them," the man said.
However, Tencent Inc, which operates QQ, said the passengers probably failed to shut down the software properly, which made it appear as if they had been online.
Ignitias Ong, CEO of Malaysia Airlines subsidiary Firefly Airlines, said family and friends of all passengers on the missing flight have been contacted. Some family members disagreed, saying they found out about the incident through the media.
Malaysia Airlines has offered to fly relatives of the missing passengers to Malaysia to "help them get closer to the location of the missing flight", Ong said, but many family members have refused the offer.
"I won't go with them until I know for sure what has happened to the flight," said Jiang Bo, from Qingdao, Shandong province, who had a relative on the flight.