A China Coast Guard vessel found two large oil slicks in the Gulf of Thailand on Monday, adding to hopes of finding the Malaysia Airlines jet that vanished three days ago.
More than 30 aircraft and 40 ships from 10 countries are searching for the Beijing-bound Boeing 777-200.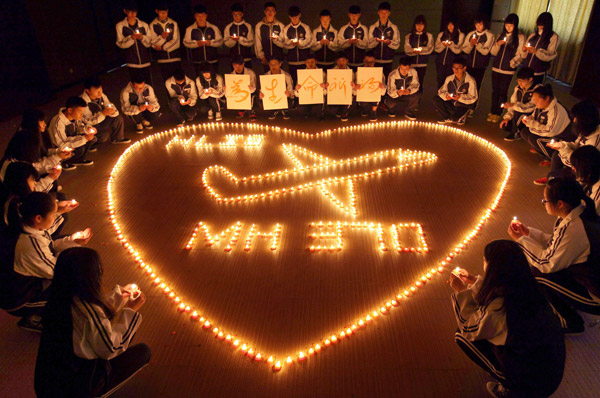 Students at an international school in Zhuji, Zhejiang province, hold a candlelight vigil on Monday to pray for the 239 people aboard Malaysia Airlines flight 370, which disappeared on Saturday. A 13-strong team from China arrived in Kuala Lumpur on Monday to discuss rescue cooperation. LUO SHANXI / FOR CHINA DAILY 
The aircraft, flight MH370, left Kuala Lumpur early on Saturday.
The search is taking place mainly in a 50 nautical mile radius from the point of the last radar contact with the plane on Saturday morning, midway between Malaysia's east coast and the southern tip of Vietnam.
The 27,000-sq-km area includes parts of the Gulf of Thailand and the South China Sea.
China sent three ships and three helicopters to the search area, and they were expected to arrive on Tuesday evening, adding to the three ships already there, said Zhuo Li, deputy director of the China Rescue and Salvage Center under the Ministry of Transport.
Search extended
Li Jiaxiang, head of the Civil Aviation Administration of China, said: "The search work is currently in order, but unfortunately there is still no news available. The scope of the search will be extended."
A 13-strong working group sent by the Chinese government arrived in Kuala Lumpur, the Malaysian capital, on Monday evening to work with Malaysian authorities on rescue cooperation and investigation.
Liu Yang, head of medical services with the South Sea Fleet, which joined the search, said: "We have brought doctors specializing in general surgery and chest operations. There are also professionals from osteological, anesthesiological and psychological departments."
She said the naval vessel Jinggangshan has a tele-consultation system that enables experts in Beijing to help with the treatment of survivors.
Many theories
Dato Azharuddin Abdul Rahman, director-general of the Malaysian Department of Civil Aviation, said at a news conference on Monday that all objects spotted in the sea have not been confirmed as debris from the missing aircraft.
Vietnamese marine police aircraft searching for the jet spotted an orange object floating in the sea on Monday.
Rahman said all events relating to the plane's disappearance should be considered, including the possibility of a hijacking.
He denied an earlier report that the two passengers boarding Malaysia Airlines flight 370 with false European passports are Asian looking, but he did not elaborate on their appearance or where they might be from.
Rahman said the investigation is continuing and all related video footage will be examined.
All security procedures at Malaysian airports will be reviewed after it was found that the two passengers used stolen passports, Malaysian Prime Minister Najib Razak said.
"At the moment, when we don't have any solid evidence, there are many theories swirling about, but they are not conclusive," he said.
Relatives desperate
Family members of those on the plane are at hotels in Beijing and Kuala Lumpur, desperate for news about the flight, and many of them were becoming increasingly distraught over the lack of news.
Yimamuaishan, a friend who studied with 34-year-old Uygur oil painter Maimaitijiang Abula from Kashgar in the Xinjiang Uygur autonomous region —one of the passengers on the missing fight — said his wife and older brother will travel to Malaysia.
Concern has been voiced around the world.
A photograph by Indian artist Sudarshan Patnaik went viral on the Internet. It shows a sand sculpture of a large Malaysian Airlines plane and faces of passengers made of sand, with the words "Pray God, miracles do happen".
The Star in Malaysia, Asia News Network, Xu Wei, Pu Zhendong and Wang Wen contributed to this story.
Contact the writers at hena@chinadaily.com.cn and zhaolei@chinadaily.com.cn.