Thousands of Indonesians gathered on Thursday to pray at a mosque that was one of the few buildings left standing in Banda Aceh, the city flattened by the Boxing Day tsunami that killed at least 226,000 people 10 years ago.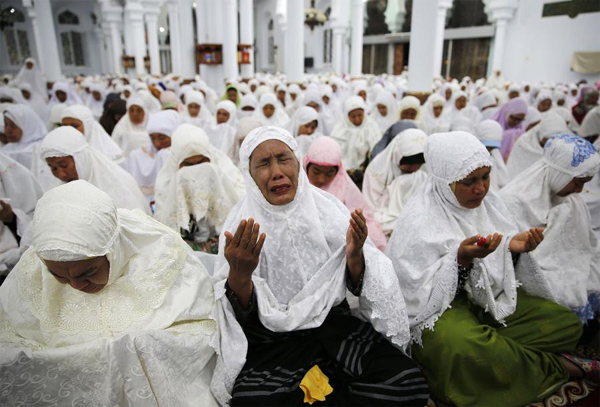 Acehnese women attend a mass prayer for the 2004 tsunami victims at Baiturrahman Grand Mosque in Banda Aceh, December 25, 2014. [Photo/Agencies]
Pictures of the 135-year-old mosque left isolated in a plain of desolation after almost everything around it was wiped away were among the most memorable from the disaster, caused by a freak wave triggered by a 9.1-magnitude earthquake off the coast of Indonesia's Sumatra island in 2004.
"Allah kept his house unscathed, that's what we Muslims believe," Azman Ismail, great imam of the Baiturrahman Grand Mosque, told Reuters. About 5,000 men, women and children crowded inside for its largest mass prayer since the tsunami.
Aceh province bore the brunt of the devastation with at least 168,000 people dead from the tsunami which also killed thousands in Sri Lanka, India and Thailand.
Syahirizal Abbas, a local government official, said he was attending "to pray that the dead will be welcome to Allah's side."
Although the tsunami brought devastation, Ismail said it had also led to peace in the province, which had suffered years of conflict between rebels and the military, as well as much needed development.
"The tsunami should be seen as a blessing instead of punishment by Allah," Syeikh Ali Jaber, an imam from Saudi Arabia, told worshippers.