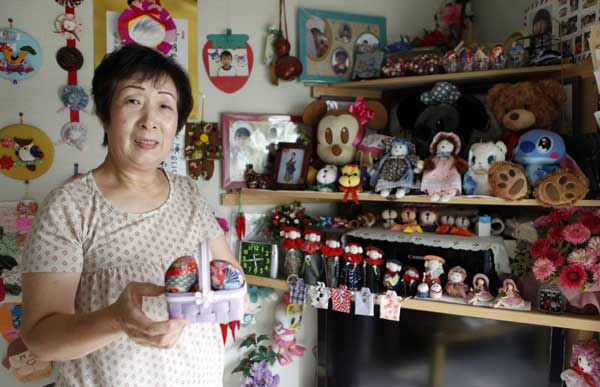 Keiko Abe, a tsunami survivor, poses inside a prefabricated room at the Kaisei temporary housing complex, where evacuees from the coastal area live in Ishinomaki, Miyagi prefecture September 11, 2014. Picture taken September 11, 2014.  [Photo/Agencies]
ISHINOMAKI - Thirty billion dollars in funding for roads, bridges and thousands of new homes in areas devastated by the tsunami in Japan three and a half years ago is still languishing unspent in the bank. That means Keiko Abe is heading into a fourth winter of sub-zero temperatures in a cramped, temporary dwelling that is succumbing to the elements.
"I'm just clenching my teeth until I can move out and live like a human being again," says Abe, 66, as she stands in the dim light of her living room with enough space for a couch, table and television. A gray mould clings to some walls of the prefab structure, where Abe has lived with her husband since shortly after a 9-metre (30 feet) wall of water obliterated large swathes of the city of Ishinomaki on the afternoon of March 11, 2011.
Abe, who lost her home and everything in it that day, is now the victim of a funding quagmire that has left her and tens of thousands of other evacuees stranded in temporary units that were supposed to house them for no more than two years.
Japanese government funds budgeted for reconstruction and transferred to local governments are stuck in banks across the tsunami-ravaged northeast, a Reuters review of budget and bank deposit data and interviews with bank officials reveals. The central government has paid out more than $50 billion directly to local governments in Miyagi, Iwate and Fukushima prefectures, the areas hardest hit by the disaster. But about 60 percent of that money remains on deposit in the region's banks.
Ishinomaki, where more than 3,700 people died in the tsunami - the most casualties of any city in the disaster - has been deeply affected by the funding paralysis. The port city, where 56,000 buildings were damaged, has been showered with money for reconstruction - about $4.1 billion in the three years after it was hit.
But almost 60 percent of the money, or $2.3 billion, remains in bank deposits. And fewer than five percent of the planned new homes for the city's nearly 25,000 evacuees have been completed.
"I've given up on the local authorities," says Abe. "They don't think about us."
BUREAUCRATS IN TOKYO
A few minutes' drive from Abe's temporary home, the mayor of Ishinomaki sits in his office directing part of the blame for the hold-ups at bureaucrats in Tokyo. "It's a massive disaster but central government officials are acting as if these were normal times," says Hiroshi Kameyama, referring to the red tape he confronts in getting building plans approved. "It's one of the reasons why public works are delayed."
Makoto Kitamura, the deputy director general of the Reconstruction Agency, says local government spending of reconstruction money has been accelerating. "The pace of the construction projects has also been picking up," he told Reuters, sitting in his office in Tokyo. "So it is not something you should worry about."
For Prime Minister Shinzo Abe, the reconstruction delays are a potential time bomb. Before he became prime minister in December 2012, Abe campaigned in parliamentary elections on a pledge to speed up reconstruction - a promise he has repeated on both anniversaries of the disaster since he took office. As opposition leader he chided the government for not moving fast enough on rebuilding: "Japan has no future without reconstruction of disaster-hit areas," he declared during a tour of Fukushima, where the tsunami crippled a nuclear plant.
As prime minister, he vowed in March 2013 that "reconstruction will have made a lot of progress and our lives will be better by March 11 next year." A year later he repeated the promise: The government would make the year ahead one in which "everyone in disaster-hit areas feels the progress of reconstruction."
So far, about 2,700 housing units of a planned 29,000 have been completed in the tsunami-hit areas. In its housing plan issued more than a year ago, the government said it aimed to complete 15,000 homes by March next year. It has since scaled back that target to 10,000 units.
A labor shortage exacerbated by the siphoning of workers away from the disaster zone to build commercial facilities for the 2020 Tokyo Olympic Games has slowed reconstruction. So have a spike in the cost of building materials and problems in procuring land in the disaster zone.
Initial government estimates for the cost of building a new home have been far off the mark. In 2011, the Reconstruction Agency budgeted $158,000 for a new home. In April, it revised that estimate upward, for a second time, to $217,000 - almost 40 percent higher than the original figure.
"We are struggling to keep up with the rise in costs," Michio Oka, a section chief in Ishinomaki's reconstruction office, told Reuters. "Because of the sharp rise in material and labour costs we have failed to attract contractors."