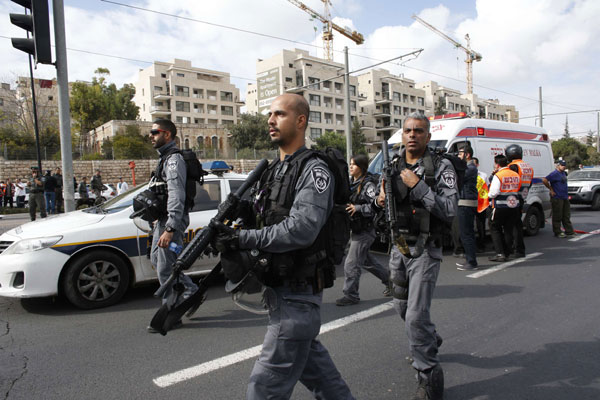 Israeli police officers walk at the scene of an attack in Jerusalem November 5, 2014. A motorist rammed into pedestrians on a crowded Jerusalem street and then got out of his vehicle to attack people with a metal bar on Wednesday in what Israeli police, who shot him dead, said appeared to be a deliberate Palestinian attack.[Photo/Agencies]
GAZA - Islamic Hamas movement on Wednesday claimed responsibility for the earlier drive-over attack in Jerusalem which killed one and wounded at least 10 Israelis.
The movement said in an emailed press statement that "Hamas movement blesses the heroic drive-over car attack carried out by its member Ibrahim Akari, 48, from Shu'fat neighborhood in east Jerusalem."
"Our Martyr insisted on revenge for al-Aqsa Mosque and the martyrs of the Palestinian people," said the Hamas leaflet.
Earlier on Wednesday, one person was killed and over ten others injured after a Palestinian motorist rammed his vehicle into a group of people at a light rail train station in Jerusalem, an Israeli Police spokeswoman said.
The driver crashed his vehicle into the pedestrians and later assaulted them with an iron rod near an Arab neighborhood in East Jerusalem, leaving at least ten people injured, before being shot dead by police.
One of the injured died of injuries on the way to hospital, according to Israeli media reports.
Tension in Jerusalem old city between the Palestinians and the Israeli security forces has been growing due to attempts of extremists to break into the yard of al-Aqsa Mosque and al-Haram al-Sharif in the old city.
"There is no place for Israel in this world. Al-Aqsa Mosque needs more popular, political and resisting effort and Israel should know that touching al-Aqsa mosque will offset their bloods, " said Khalil al-Hayya, a senior Hamas leader in Gaza.