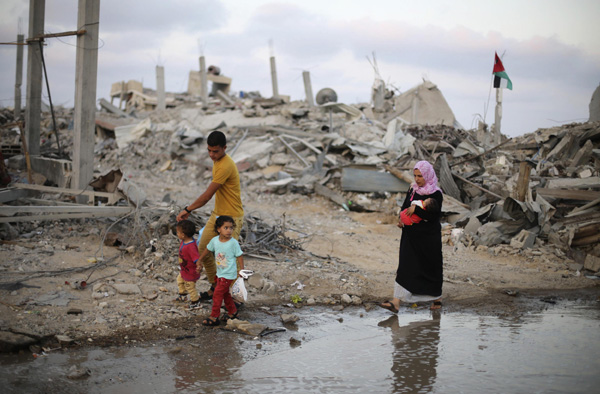 Palestinians walk next to the ruins of houses, which witnesses said were destroyed during the Israeli offensive, on the fifth day of ceasefire in Khan Younis in the southern Gaza Strip August 18, 2014. [Photo/Agencies]
JERUSALEM - Israel and Hamas had reached a deal on extending the temporary truce by an extra 24 hours until Tuesday at midnight (GMT 2100), an Israeli official confirmed to Xinhua.
Egypt urged both sides to agree to extend the current 120-hour truce, set to expire on Monday midnight, for another 24 hours in hopes of reaching a permanent truce agreement that would officially end the Gaza offensive by that time, the official said.
According to the Egyptian outline, reported by the Channel 10 news, a limited and initial deal will be announced by the end of the 24-hour cease fire.
The framework of this initial agreement would include the easing of the Israeli blockade on the strip, extending the fishing zone (to 12 nautical miles off the coast) and having Palestinian Authority personnel enter Gaza Strip to oversee the crossings, as well as allowing incoming humanitarian aid, Channel 10 reported.
The initial deal will not include such topics as Hamas' demands to release 56 prisoners, establishing a seaport and Israel's demand to demilitarize the strip and having Hamas return the bodies of two soldiers killed in clashes in the strip.
Those substantial topics, according to the Egyptian outline, will be discussed in one month's time in another round of indirect negotiations, sponsored by Egypt.
Earlier on Monday, Israeli Prime Minister Benjamin Netanyahu gathered a special consultation in the military headquarters in Tel Aviv with Defense Minister Moshe Ya'alon, the Israel Defense Forces' Chief of Staff Benny Gantz and the head of the Shin bet security agency, Yoram Cohen.
Beforehand, Netanyahu said Israel is ready to strike forcefully at the Gaza Strip if the missile fire would be renewed and Defense Minister Ya'alon said the operation is not yet over, adding that they are waiting to hear back from the discussions in Cairo.
In the past two weeks, Israel and Hamas had several continuous temporary truces, during which time delegates on their behalf conducted indirect talks in Cairo to reach a final deal to end the offensive, which has claimed the lives of more than 2,000 Palestinians and 67 Israelis since July 8.