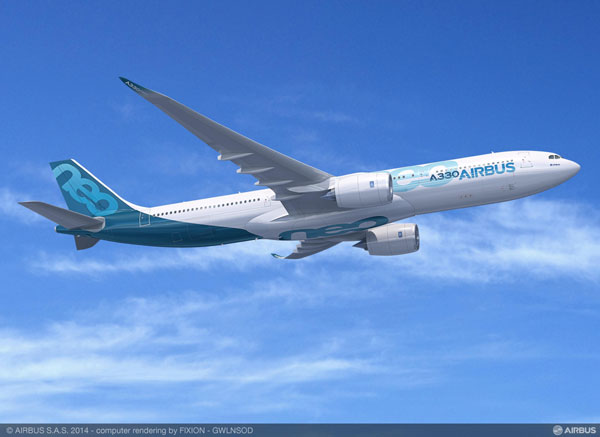 Airbus launches the A330neo at Farnborough Air Show 2014 on July 15. Provided to China Daily
Airbus won deals worth more than $75 billion for a total of 496 aircraft at Farnborough Air Show 2014, creating its new record at Farnborough, the company announced on Thursday.
The deals comprise Memoranda of Understanding for 138 aircraft worth $36.9 billion and purchase orders for 358 aircraft worth $38.4 billion.
As so far, this is the largest Farnborough show for Airbus – both in terms of value and also in the number of aircraft.
"The orders and commitments we've received at this record-breaking Farnborough for both the A330neo and A320neo families are together an unequivocally resounding endorsement for these most cost-efficient aircraft," John Leahy, Airbus' chief operating officer, customers said.
"For both our single-aisle and widebody categories, the high representation of lessors – widely regarded as the global 'barometer' of the industry – is indicative of the long term confidence in the capacity needs for sustainable growth for the airlines in the years ahead," he said.
The show kicked-off with the launch of the A330neo on Monday, followed by a brisk slew of announcements from major customers for a total of 121 A330neos worth $33.2 billion. Leading the charge was Air Asia X with a deal for 50 A330-900neos worth $13.8 billion.
In the single-aisle sector, Airbus' A320 Family garnered an impressive 363 commitments worth $39.0 billion.
Airbus also achieved the 3,000th A320neo Family sale during the show. The milestone was reached when SMBC Aviation Capital ordered 110 A320neo aircraft, marking the show's biggest vote of confidence for the leading Single Aisle aircraft Family.
Airbus is a leading aircraft manufacturer with the most modern family of airliners, ranging in capacity from 100 to more than 500 seats.
By far, it has delivered more than 8,500 aircraft to some 360 customers worldwide and has a backlog of more than 5,500 aircraft. Airbus has design and manufacturing facilities in France, Germany, the UK and Spain as well as subsidiaries in the US, China, India, Japan and in the Middle East.