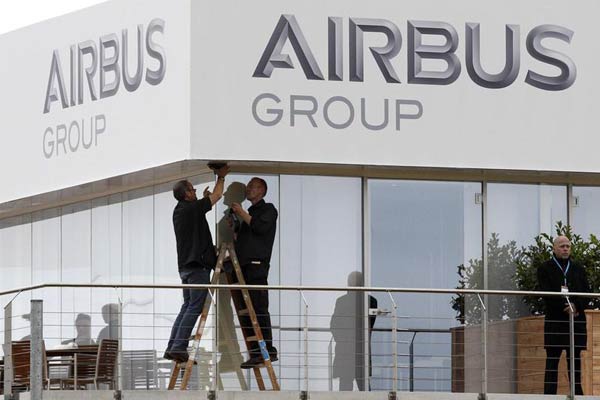 Workers put hands on the booth of Airbus for the upcoming ILA Berlin Air Show in Selchow near Schoenefeld south of Berlin May 19, 2014. [Photo/Agencies]
Passenger aircraft sales will take off and pull even with US, executive says
The Chinese market will continue to grow for another 20 years in terms of commercial aircraft demand, pulling even with the United States as the leading markets in the world for Airbus Group NV, according to Chief Executive Officer Thomas Enders.
Enders, who has been running Airbus since 2007, gave a positive forecast of this year's orders during an interview on Tuesday in
Beijing
.
Airbus received 1,600 orders for its aircraft in 2013, and the number will be "significant" this year, he said.
Airbus, a world leader in aeronautics, space and related services, integrated its five brands under the "same roof" of the brand Airbus on Jan 1.
"We picked the most well-known brand in the group, which represents 65 percent of our business. It will grow to 70 percent in the coming years," said Enders.
The new group comprises Airbus SAS as a manufacturer of commercial aircraft, Airbus Defense and Space as the defense and aerospace leader in Europe and Airbus Helicopters, which offers the world's widest range of civil and military copters.
Airbus Group was created in 2000 through the merger of
Daimler
Chrysler
Aerospace AG in Germany, Aerospatiale Matra in France and CAS in Spain. With orders exceeding 1.2 trillion
eu
ros ($1.6 trillion) since 2000, the group's order backlog at the end of 2013 was 680.6 billion euros.
Last year, Airbus Group had revenues of 57.6 billion euros, more than double the 24.2 billion euros it generated in 2000.
Fast-growing demand for helicopters in China, fueled by the relaxation of low-altitude airspace, is creating huge potential for Airbus Helicopter.
The division sold 123 helicopters to Chinese companies on Monday, when China and Germany signed a series of trade and investment deals during a visit to Beijing by German Chancellor Angela Merkel. Three contracts were signed with Fujian Xinmei General Aviation Co, Guangdong Baiyun General Aviation Co and Yunnan Fengxiang General Aviation Co.
The copters will be used for general aviation functions such as utility work, air tours, passenger transport, business aviation, emergency medical services and search and rescue operations.
Most of the 123 helicopters are light single-engine helicopters from Airbus Helicopters' Ecureuil family, as well as the light twin-engine EC135.
Airbus Helicopters Chief Executive Officer Guillaume Faury said: "It is evident that China's relaxation of its low-altitude airspace regulations is enabling the country's burgeoning helicopter market to realize its potential."
China has 190 Airbus helicopters in operation, accounting for 42 percent of China's civil helicopter market and generating revenue of about 180 million euros for the company.
Early this year, Airbus Helicopters and China's Avicopter - the helicopters business unit of State-owned Aviation Industry Corp of China - signed a joint agreement for the production of 1,000 new-generation EC175/AC352 rotorcraft.
Speaking on technological exchanges, Enders said cooperation and sharing knowledge in the engineering field, as well as manufacturing and assembly technology, is vital in a collaboration.
"You cannot cooperate with partners without knowledge, skill and technology transfers. That is the very core of cooperation. You have to share," he said.