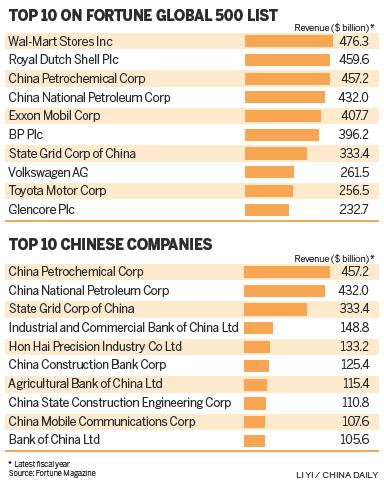 Chinese companies have significantly improved their rankings in the Fortune 500 list of the world's biggest companies for 2013, a new report said.
According to the latest ranking released by the magazine, about 100 Chinese companies are part of the list that is still dominated by United States companies. The report indicated that though Chinese companies are fast scaling up their presence, they still lag their US counterparts in key performance indicators like profit and revenue.
Oil giant China Petrochemical Corp, China's largest company by sales revenue, was ranked third in the Fortune 500 list, ahead of Exxon Mobil Corp, with annual income of $457 billion in 2013. It was also the first time that a Chinese company was in the top three rankings.
Sinopec
was followed by China National Petrol
eu
m Corp, which ranked fourth with $432 billion.
US-based retailer Wal-Mart Stores Inc regained its top ranking with annual income of $476 billion, while Royal Dutch Shell Plc moved down to the second position.
Among the 100 Chinese companies - five more than the previous year - five were from Taiwan and four from Hong Kong. In comparison, the number of US companies declined from 132 to 128, and that of Japan dropped from 62 to 57.
Companies from the Chinese mainland registered an average profit of $3.22 billion, which is about half of the $6.24 billion posted by US firms. The figure was also much lower than the average level of $3.91 billion for all the 500 companies on the list.
The average number of employees for a Chinese company was 190,000, much more than 126,000 for a US company.
"Profits of Chinese companies were on par with the Fortune 500's average level in 2013. It is regrettable that the profitability of Chinese companies has declined significantly over the past year," Wang Zhile, a senior researcher at the Chinese Academy of International Trade and Economic Cooperation under the Ministry of Commerce, wrote in an online commentary.
"Chinese companies must make persistent efforts to keep winning on the global stage," Wang said.
In terms of profitability, United Kingdom-based telecom giant Vodafone Group Plc was ranked first with profits of over $94.1 billion. China's most profitable company was Industrial and Commercial Bank of China Ltd, which was ranked fourth, with profits of $42.7 billion in 2013.
Most of the other Chinese companies on the list are State-owned enterprises, especially in traditional industries, which are facing pressures from slower growth, said Luo Zhongwei, a researcher at the Institute of Industrial Economics under the Chinese Academy of Social Sciences.