Economic rebalancing is likely to usher in a "new era" of German investment in China, said Lothar Herrmann, chairman of the German Chamber, after the German Business Confidence Survey 2014 launch on Wednesday.
German companies operating in China reported robust performance and relative optimism for 2014 despite the economic slowdown.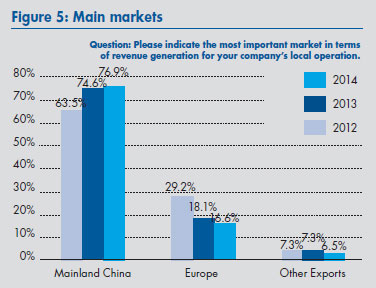 "We do believe at the German Chamber that there is optimism because our technology can contribute to the next level of development in China," said Herrmann.
German investment going forward is expected to be driven by its technologies in automation, digitalization and renewable energy, which are seem as possible solutions to the challenges facing China during its economic rebalancing.
Of the 417 members that participated in the survey, 23 percent expect to exceed their business targets for this year compared to only 17 percent expecting to not to achieve or only partly achieve their targets, up 9 percent and down 4 percent respectively from 2013.
Forty-nine percent of the companies expect economic conditions to improve, with 75 percent of the automotive sector maintaining a positive outlook.
The majority also welcomed reforms with 70 percent of companies viewing the central government's reform agenda as having potentially positive effects on their businesses.
However, this positive sentiment is yet to translate into investment as 48.6 percent of companies stated that initiated policies will have no influence on their investment decisions.
Human resources issues still remain the biggest challenge to German businesses operating in China. However, human resource issues are on the decline as German companies appear to have gained experience in how to deal with the challenges of doing business in China.